Filling Holes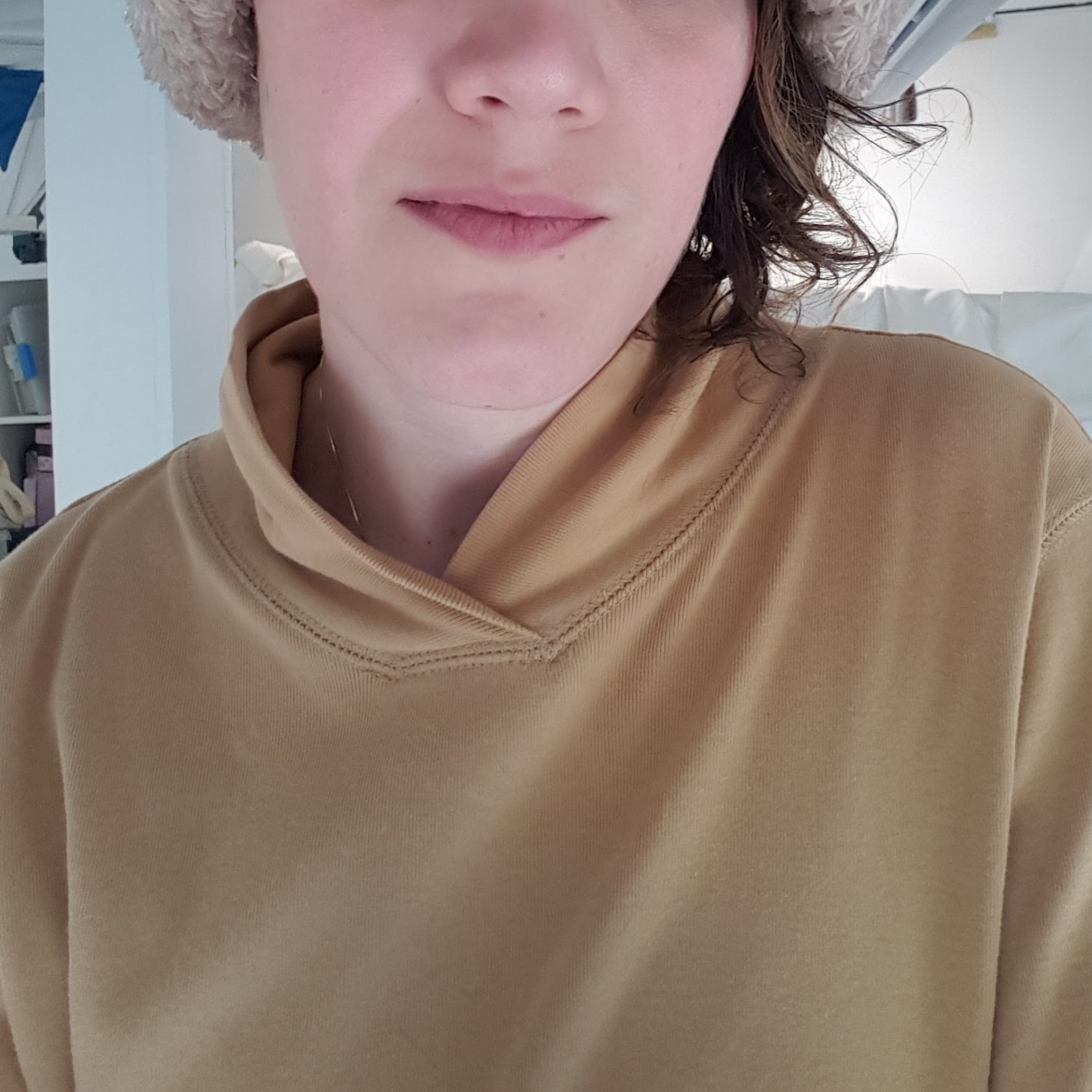 Filling holes in wardrobes and in hearts.
The shirt that ended up doing both.
Minimalist bloggers love to talk about "filling holes" in their wardrobes. When you start doing a wardrobe inventory, it is definitely easier to see what you have, what you have perhaps too much of, and what you might need or want to round everything out. Sometimes it feels like this is a covert way to keep adding to a wardrobe under the guise of filling a gap, but just as often I think it is an informed and considered way of making a wardrobe more cohesive.
Lately I'd been thinking I'd like a plain beige or camel sweater to add to my mix. I love black, but with the kitties and their copious fur I really need to be conscious of how crazy I want to drive myself with the lint roller. And sometimes I feel black is too harsh on my complexion? So I'm opening up to the idea of wearing more lighter neutrals, and steering myself away from all black all the time, especially with sweaters, which, depending on the knit, fur just loves to embed itself in.
This weekend I went to my dad's house and, as is my usual practice when I visit, rifled through the closet where the remainder of my mom's wardrobe is stored. When she was sick in the hospital, my sisters and I spent a lot of time in her closet, sitting on the floor and wrapping ourselves in the drapes and folds of all the hanging clothes. After she died, we went through and picked out the pieces we loved or that held special memories. My mom had a LOT of clothes, so there was still so much leftover. Every time I have the opportunity, I continue to pick through the leftovers.
This time I found a few shirts that have been overlooked up until now. Some of them are pieces that just didn't use to be my style, but that I now find more suitable to my aesthetic. Some have the promise to fill holes I hadn't identified previously.
Enter this camel-color shirt, which I very specifically remember my mom wearing on many occasions. One of my favorite photos of my mom is one I took of her wearing this shirt. She'd come with my dad to help me move into my new apartment in Birmingham, Alabama in 2009. In the photo she's relaxing in a chair, smiling, content, comfortable.
I took the shirt home with me and, last night, took in the side seams and arms on the shirt to make it more fitted. I like wearing the collar a little popped. I think it just may fill the hole I identified, a light neutral sweater. Although its technically just a long sleeve tee, I have a dearth of long sleeve tees, and with the tighter fit it feels cozy and will go under a cardigan easily.
And of course the best part is that instead of buying something from a store, I was able to get more use out of something that was already around (and free, haha). Plus, I feel connection to my mom when I'm wearing her things. I love that I was able to fill a hole in my wardrobe, but also my heart.