7 Vintage Alternatives to the Everlane Cocoon Coat
It's tempting to indulge when Everlane releases a fun new style like the cocoon coat.
That plaid?? Hello! I know it's not technically a new style, but the colorways are all just so nice. Even you, lilac.
Everlane definitely has a good eye for contemporary minimalist style, and the price is great for shopping ethical fashion on a smaller budget. The coat pictured here is $250 and as per Everlane's description contains: a shell of 60% wool, 25% nylon, 8% polyester, 6% acrylic, 1% rayon; a body lining of 55% cupro, 45% cotton; a sleeve lining of 100% polyester.
Whew, need to take a breath after that!
I can't say whether or not a coat made from a mix of fabric blends like this has some special advantage in terms of ethical manufacturing (are any of these recycled fibers?) or whether the amount of synthetics in it causes has an affect on performance (perhaps less warm, but more durable?) So I really can't say whether it's "worth" $250 dollars.
However, I do know that if you like the style of this coat and you need a coat but maybe you don't have quite $250 to budget for your winter coat… oh and you would like to try shopping secondhand or vintage… the options are vast!
I'm telling you, if I brought home every beautiful coat I found in the world, I'd have to open my own coat store to support my coat habit and they'd call me the ole Coat Goat. I don't know why the goat part, but it sounds good right? Here's a goat in a coat:
A vintage anything is generally — though not always — much more affordable than the new something of the same quality. And with vintage you also get another really unique thing — no one else will be dressed quite like you.
So, in an effort to encourage more of the serendipitous kind of shopping that you can still plan for, and less of the buying-everything-new mindset, I thought it would be fun to highlight some vintage wool coat alternatives to the Everlane cocoon coat that you can shop online.
But first, a couple of minor criticisms of the Everlane coat.
Its easy on the eyes, but my biggest issue with the cocoon coat is that the front pockets have a top entry and are positioned quite high, which is an awkward design for someone like myself who likes to keep her mitts toasty without contorting her arms to do so. Functionally it's a miss. I tried to find alternative coats that had side entry pockets for optimal mitt-toasting, but sometimes you can't have it all.
My other concern with the Everlane coat is the relatively low wool content in the fabric blend — just 60%, while the other 40% is made up of nylon, polyester, acrylic, and rayon (that's just in the shell). If I learned anything from my mom, it's that the warmth of a wool coat depends on the amount of wool it's made with, so I like to look for higher percentages in a wool coat. If you live in a warmer climate you may not care as much about this quality, but I run cold and thus love a good warm coat without the bulk of a puffy coat.
So what's the alternative?
But when you shop vintage, you can often find coats of higher quality for less money than if you were to buy an identical, newly manufactured item today. And many of the coats you find will surpass the quality of a new ready-to-wear coat at the same price point.
One caveat of vintage shopping is that it's sometime impossible to know for sure what the fabric content of a given item is. I'd say the majority of vintage coats I see for sale have a tag noting fabric content, but it could be missing or it may never have existed. For this roundup, I've inquired with sellers and done my best to find higher percentages of wool to showcase here.
Now, you might expect a 100% wool coat to cost much more than the $250 price tag on the Everlane wool-blend cocoon, and that's almost certainly true for a contemporary, well-made, ethically-produced wool coat. This would presumably exclude many from purchasing — people who may opt to buy something new, perhaps of lesser quality or unknown production origin.
Almost all of the featured vintage coats below have at least 70% wool content and range in price from $40–$138.
While the coats I'm highlighting today are not all 100% wool, they do contain on average 78% wool, which is 18% more than Everlane's version. And, they are all over 45% less expensive than Everlane's version.
$69 / 100% wool / Ships from USA
Classic style, even more classic color. You can't beat the price either for 100% wool. At first it appears to have the same three-button styling just like Everlane, but when you look closely you'll see a fourth button at the collar they threw in for free! No more chilly necks.
$60.90 / Fabric content N/A but possibly 100% wool / Ships from Canada
If you're into classic black, this one's for you. The pockets are still top-entry — boo. But it's got other things going for it, like, oh I don't know - VELVET TRIMMED LAPELS? Ooh la la.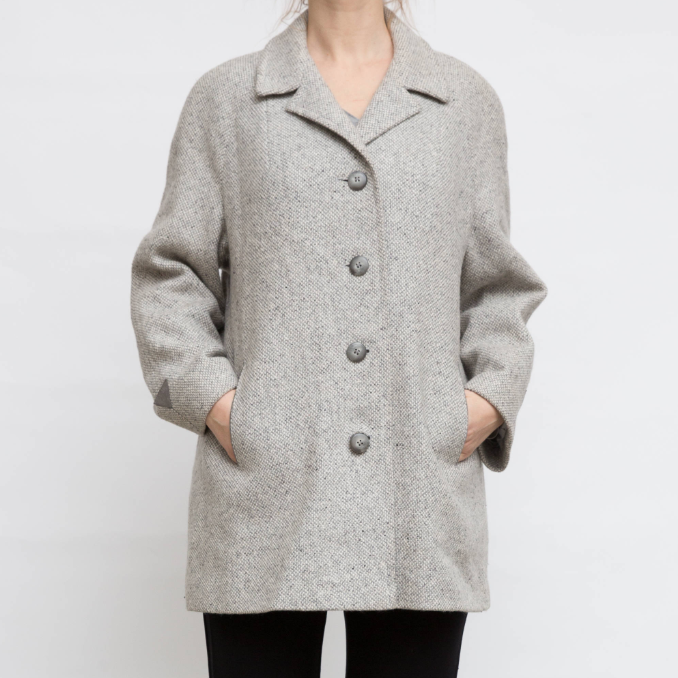 $40.23 / 55% wool, 45% acrylic/nylon blend / Ships from Lithuania
OK this one is slightly less wool content than Everlane, but it's very similar to their heather gray colorway, but at a fraction of the cost. And look at those little contrast triangle details on the sleeves! This is seriously cute but minimal.
$138 / 70% wool, 30% nylon / Ships from USA
This one has me all heart eyes 😍. A little more pea-coat-esque, but that windowpane! The seller notes some moth marks on the wool. Having just gone through a moth infestation — be careful with this! But a trip to the dry cleaners should do the trick for safeguarding against future moths (band name idea: The Future Moths — is that taken yet?).
$40 / 80% wool, 20% nylon / Ships from USA
Another classic gray option. Can't go wrong here. The front pockets have a subtle but interesting pleat detail. Perfect for a frugal minimalist with an eye for the finer things.
$59.50 / 80% wool, 15% polyamide, 5% polyester / Ships from Latvia
Honestly this looks more like a cocoon to me than Everlane's version... If I didn't already have a burgundy coat I'd go for this one! I'm a sucker for big dolman sleeves, and this color — so pretty.
Reversible gray plaid coat
$92.40 / 85% wool 15% polyamide / Ships from The Netherlands
Reversible??? Yes, apparently you can flip this baby inside out and have a solid gray coat OR a plaid coat. That's even more bang for your minimal buck — two coats for the price of one. If you want in on the glen plaid trend, here's your ticket.
So that's it for today's cocoon-coat-alternative roundup. I hope you spied something affordable to keep you warm and stylish this winter. What other vintage roundups are you interested in seeing featured here? Share in the comments.
BTW none of these are sponsored, I just want to share my good finds so I can live vicariously through others and not go broke. Each photo is shared from the respective seller's Etsy page, so click through to learn more.