Here's a thing I didn't buy: Amour Vert Cosette Dress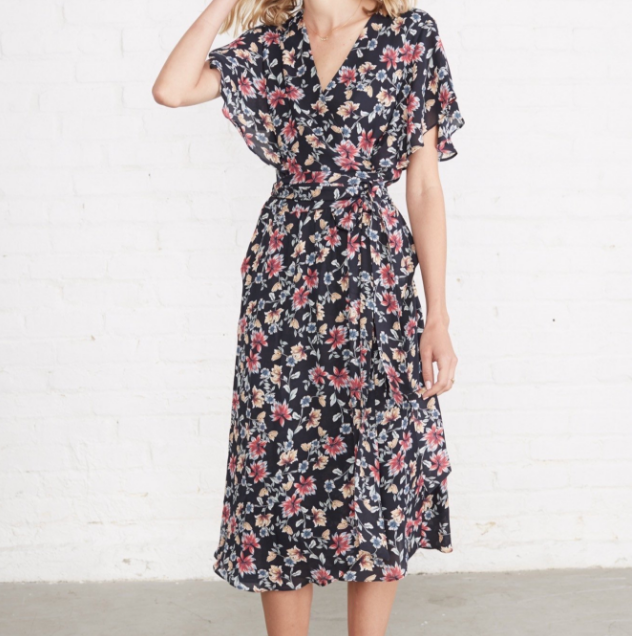 How I went from kind of wanting the thing to not buying the thing.
After reading this article in the New York Times by Ann Patchett, I'm reminded even more of why resisting the urge to buy might be a good thing.
Last weekend I got an email from Amour Vert telling me that I was a VIP customer and as such they were sending me a special promo code good for 30% off on any items through the weekend. I'll admit, with this VIP offer email, I felt two things: 1) good god, how much have I spent here that I'm a VIP? but also 2) wow, a special offer just for me, I should take advantage of it!
Then I got another email with another 30% off offer — this one just a general one, no note about being a VIP. Then — I got a THIRD offer email, this one for 25% off. But hurry, the offers all expired Sunday night.
Mind you, Amour Vert had just ran a sale maybe a week before, where I did in fact scoop up some pieces I'd had on my list for 20% off. But I went back and looked, and saw that one of the dresses I'd always liked was on super (final) sale. I kind of hate the pattern on this dress but I had thought about dying the whole thing black as it was made out of silk. But I never bought it when it was full price, $218. I didn't buy it when it was marked down once, nor twice. Now, with the 30% off I could snag it for $47.
I polled my sisters on What's App. "I love that dress. Might be less boho and more dowager dyed black. Really pretty," one of them said.
I thought about it some more.
I didn't buy the dress.
Then on Monday, another email from Amour Vert. Sale extended through Monday! Should I buy the dress? I didn't buy the dress.
Then this morning, Tuesday — 40% off sale starts now!
OK, sidebar —I work in marketing, I know how this works, and this is just kind of poor sale form. Yeah, the 40% off is only valid on already marked down items. But c'mon — lead with this big sale, encourage early buying, and then cut it out with the sales, otherwise you just train folks to wait for the better sale. This is on top of whatever glitch or oversight caused me to get on three different promo offer email lists, each with their own promo code. At this point I'm not sure if this post is more a rant about these weird marketing tactics or more about not buying the thing.
With the 40% off promo, the dress would be $40, but now I'm more sure than ever I don't want it.
I don't want it because I have plenty of fancy dresses. Yeah, this one is a little different — it's got the pretty flutter sleeves and a flowy midi length skirt — but then I'd have to go spend the time and effort dying it, and then I'd have to invent reasons to wear it when I have other dresses I love already in my closet. It's good for summer, but I have lots of summer dresses. My life is no worse off without this dress.
In the essay I linked above, Patchett talks about how the desire to buy a thing just kind of disappeared after four days, and in this scenario the same is true for me. It's hard to resist a sale, but I try to think really hard about why I like something and what difference it will make in my life. I'm relieved I have not bought this dress. There are other items I have my eye on that I want, but I'm really trying to parse through what I truly like about those things and weigh whether or not they would actually add anything worthwhile to my wardrobe. What I have to remember throughout all of it is this: there will always be other things.
Are there things you've gone through this cycle with? Did you buy the thing? Do you regret not buying the thing?