Elizabeth Suzann Canvas Clyde Work Pants Review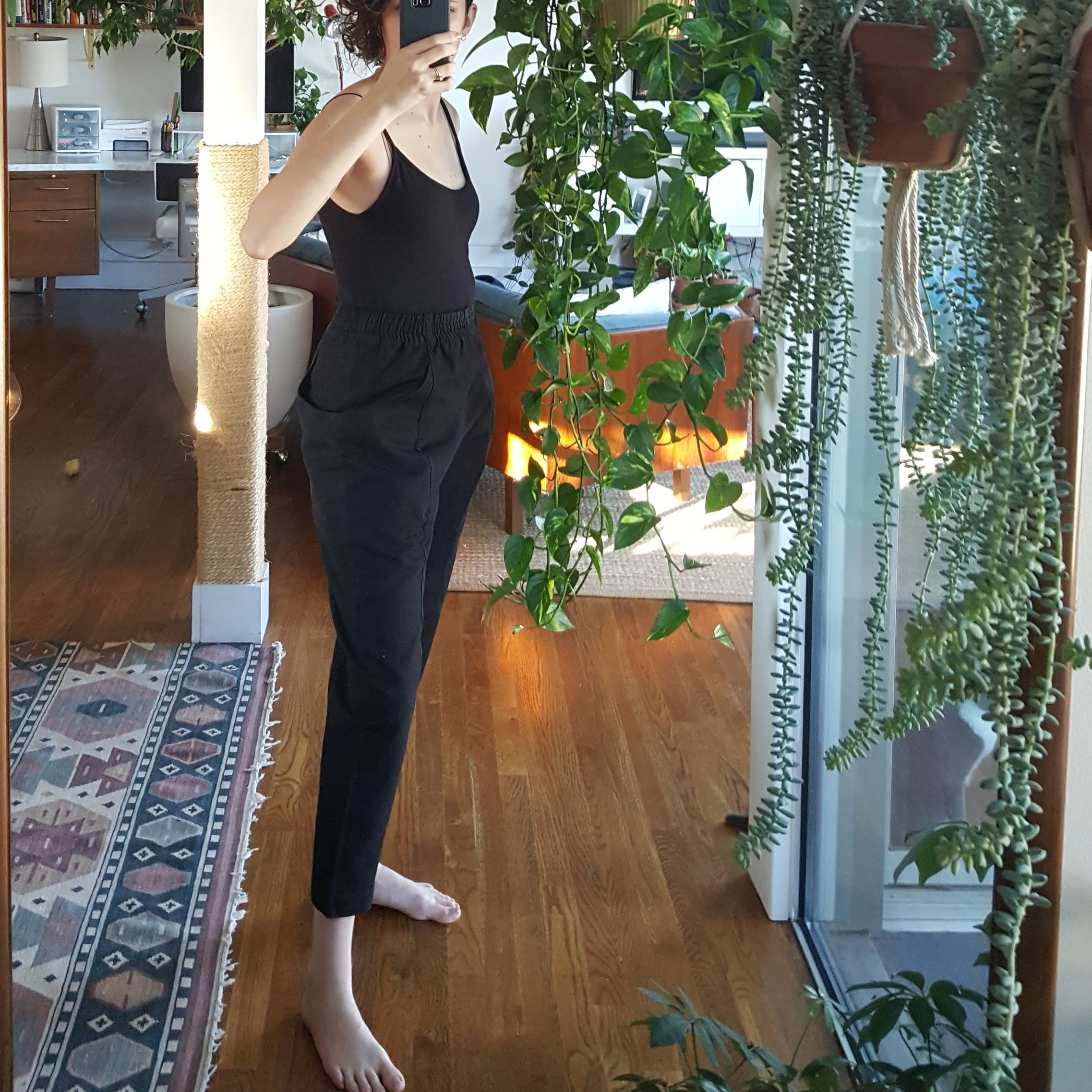 What works and what doesn't.
A review of the Elizabeth Suzann Canvas Clyde Work Pants
Anyone who orders from Elizabeth Suzann knows the anticipation that comes with delayed gratification. And boy did I anticipate the canvas clyde work pants! The very first ES item I bought was the work pants in cotton twill, which I sent back in favor of linen. I LOVE my linen clydes but found these canvas ones just... not what I hoped for at this time. Even now my feelings are mixed because I think the canvas clydes have definite good things going on, but the fact remains they don't quite align with what I was going for when I ordered them.
What I was hoping for was a good heavyweight pant that I could wear in winter as an alternative to jeans. Pulling these on, I found they were indeed very heavyweight, but perhaps a little more stiff and poofy than I wanted. I am wearing them in a 6-regular. I ordered these before it was solidified that I need to always order a tall in ES bottoms in order for the rise to fit where I prefer. For a winter pant, the extra couple inches in length would have been good here too, although the rise, surprisingly, felt OK. They were comfortable to wear, despite feeling a little bulky in the hip area where it's gotta be three layers of canvas thick. For the most part they seemed flattering, except for if I moved in a weird angle that would make the belly pooch out considerably.
The other downside I immediately noticed with this fabric is how the cat hair clings. Oh how it clings! I know I need to be very careful with which fabrics I bring home for this reason. The canvas was wanting to pull every bit of dust, and the black color meant that it showed. Don't fool yourself into thinking it will get better, it won't get better. Either you take out futures in lint roller sticky sheets, or you resign yourself to looking like the cat lady. Sometimes when I'm in public I pull a white cat hair from whatever I'm wearing and I feel comforted to know that Stuart and Nadine are following me wherever I go. But most of the time I'm like, oh boy, move over, here comes the cat lady. Two ways to deal with cat hair on everything before it gets on anything: only wear fabrics that the hair can easily be removed from, ie. silk; or, wear colors with low contrast in color vis-à-vis the car hair.
TL;DR: Elizabeth Suzann Canvas Clyde Work Pants Review
I just can't with these right now! But maybe in the future, in a lighter color, in a 6-tall.
Which, all of these things combined, means this particular pair of clydes is a no go. I decided what would suit my goal better is probably the Elizabeth Suzann cecelia pants, which I've sent away for in exchange for these. I liked how they fit Grechen and I hope that they fill they non-jean non-skintight black winter pant I'm going for.
As far as the canvas clydes, I think I might try them again next year, but in a 6-tall, and in a lighter color besides black. I love the pockets, the wearing ease, the leg taper, and the general style, but the color, length, and fit just aren't doing it for me right now. I found the measurements on the ES website accurate. For reference, see my own measurements here.
Have you tried the canvas work pants? What did you think?