Feb 19–25, 2018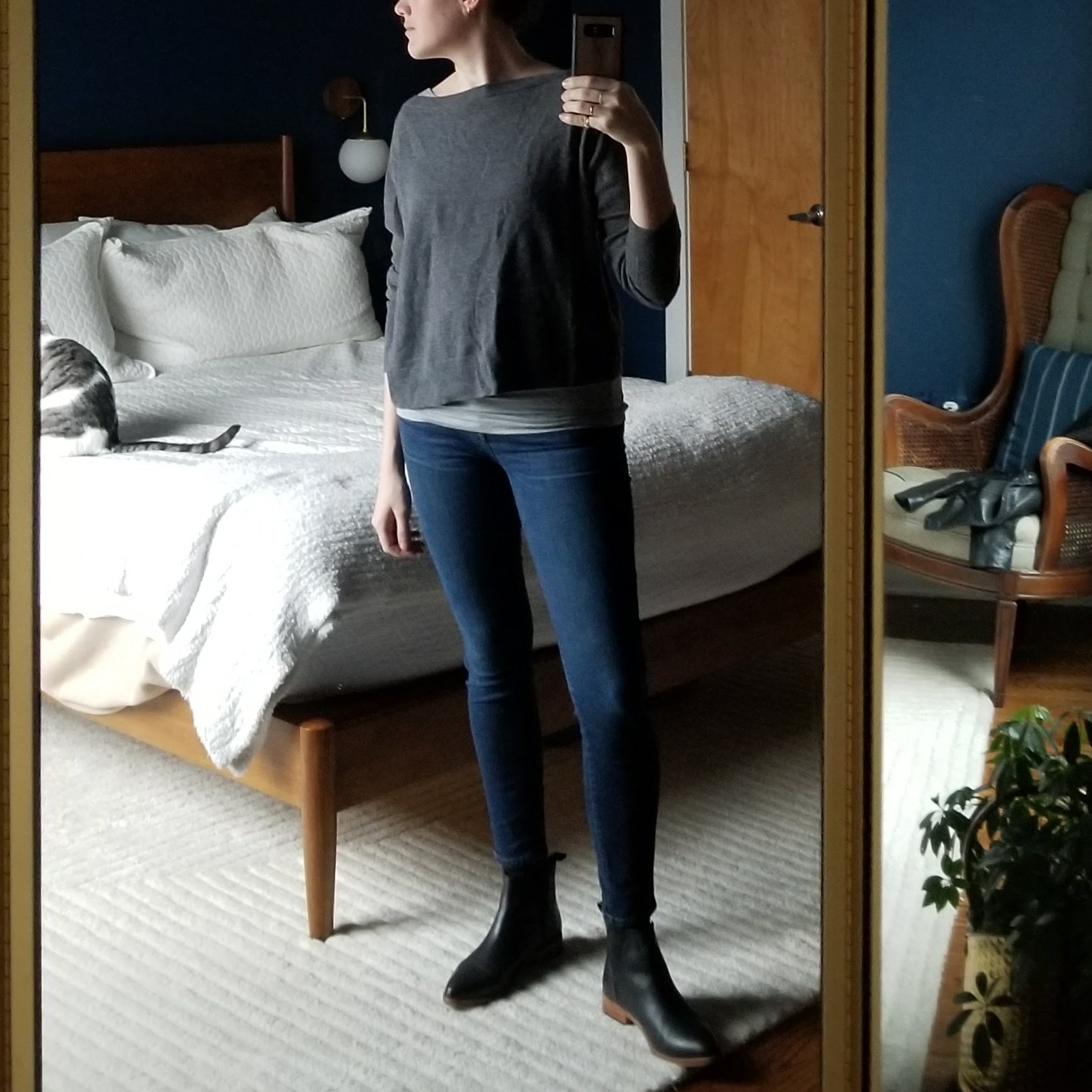 February 19, 2018
Wearing two backwards tops in this pic — a scoop tank and a v-neck sweater. I like both better when the scoops are in the back because I am less self-conscious about showing too much skin at the office. The v-neck sweater turns into a kind of boatneck this way. I thought it was funny when Everlane teased the new boatneck cashmere sweaters because I already had one!
February 20, 2018
Unseasonable warn weather persists. I tried wearing this cheap faux-snake skinny belt from my mom and while I like it stylistically as a change from my regular belt, boy or boy is it a terrible belt functionally. There isn't enough pressure in the "buckle" part to really meaningfully cinch the pants without it coming loose five minutes later. I wonder if there's a way to fix or improve it.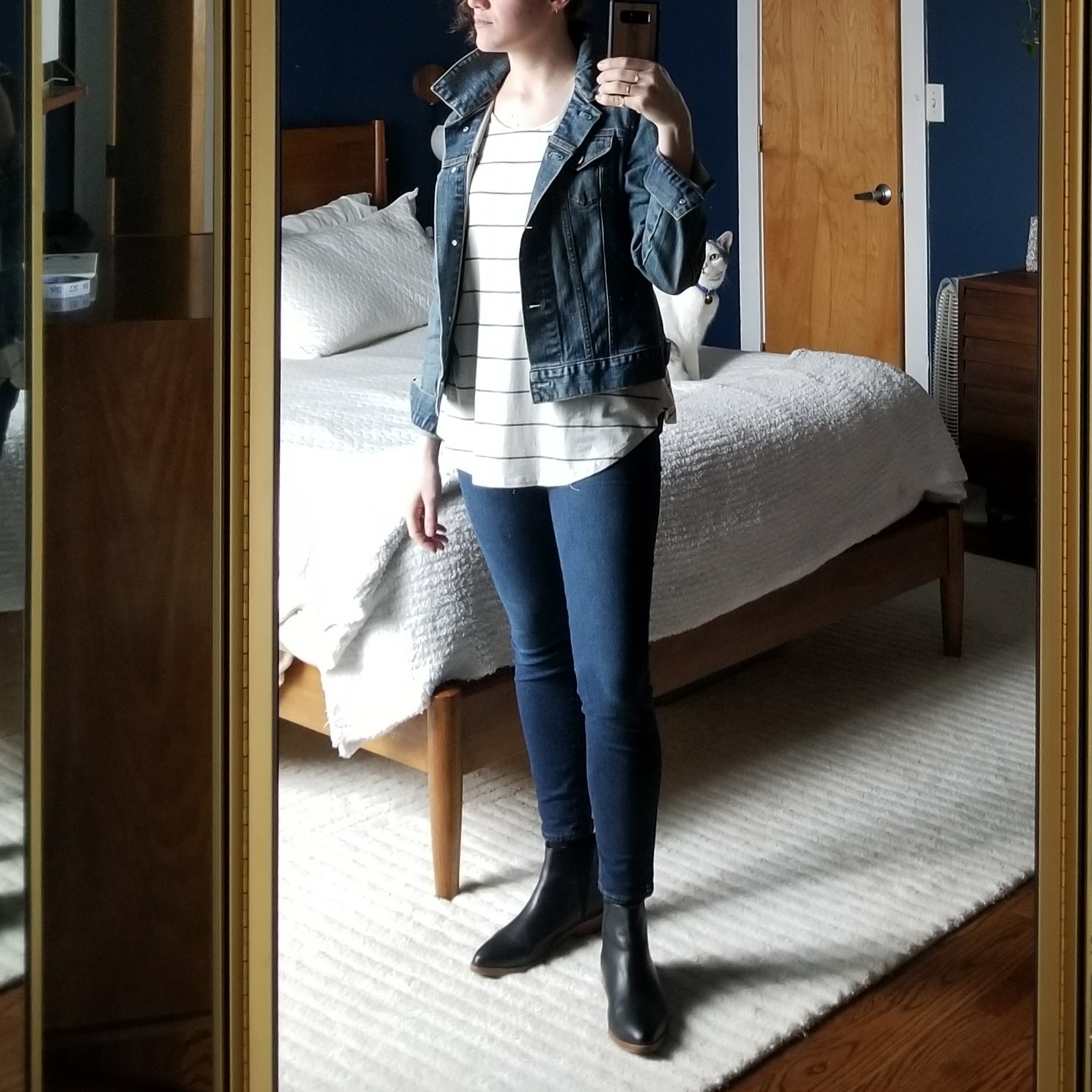 February 21, 2018
Something about the perfect pair of skinny jeans makes me feel so good, especially with a blousier top. I love the tight sausage feeling of the legs! It lowers my anxiety. Weird way to put it, I know, but it's true. But not just any pair of tight pants will do. There's something like magic to how a good pair is constricting in all the right places but not in others. This pair is from Madewell. I have two pairs in the same style, one is the tall length that I can cuff. I wish I had more faith in the sustainability and ethics of a company like Madewell because they're really on to something with the way they design the front pockets on these babies — they are sewn into both the sides of the pants so it's like another layer of elastic holding everything in place. I'd easily pay twice as much money as I did for this pair of jeans made ethically.
February 22, 2018
Work from home day! I only put on the shoes for show since I was barefoot for the majority of the day. I do really like them with the black top as a bookend to these flax colored Elizabeth Suzann clyde pants. Dark on top light on bottom is not a look I ever went for really, but it really pops in a nice way!
February 23, 2018
Super-casual look even with these chinos. I bought them six years ago in preparation for the job I have now, thinking that I'd need something dressier than jeans to wear in an office. Turns out I wear jeans most days anyway! I like to roll these up for a cooler look, but they are a lower rise than is my preference so I always need to wear longer untucked shirts with them to camafloge the rise.
February 24, 2018
Another work from home day except today was all freelance design work. I wanted to wear not-jeans — something comfortable for sitting at my desk. The Elizabeth Suzann bel skirt is nice because it's flowy but long enough I'm not worried about constantly adjusting the skirt. I normally default into always tucking things in to high waisted bottoms, but here I like the untucked cropped tee. The high waist makes me feel like I'm not showing off my midriff but isn't quite office appropriate if I raise my arms. I'm at home so I don't care, and the weather was super nice so I had the windows open and a good breeze going all around.
February 25, 2018
Had a last minute change of plan and ended up road tripping to Augusta and back today. Specifically chose these Rachel Comey pants to be comfortable on the four-hour round trip. The lightweight denim and generous rise are perfect for being cooped up in a car, haha.
I went with two friends to pick up a bunch of furniture from Final Cut, the warehouse where all the old furniture floor models and reject clothes from Anthropologie and Urban Outfitters end up. What a place. A lady accosted me in a back aisle at one point and said, "I like your style! You'll know what I should do... got tickets to Gordon Lightfoot tonight, what I should wear?" as she dangled the garments in question. "This one might be too fancy," she admitted in reference to a silver lacy dress. Gesturing at the jean skirt and sweater she also had in her arms, I told her she couldn't go wrong with denim. In my head I was thinking, I didn't know Gordon Lightfoot was still alive? But I hope that lady had a good time at the show!
It was sort of a gray week, huh? At least clothingwise — although it rained a lot too, interspersed between beautiful days. Honestly looking at these photos I kind of can't believe I wear this much black and gray now. If I didn't have a white cat I think I'd have fallen into wearing all black, but that's not really any fun.
Is wearing all gray any fun either? At least there are different shades of gray as well as denim! I actually do feel good about this color (or lack thereof) palette. I feel like I'm able to worry less about what I'm wearing and how I look when I tend towards no-fuss basics that rely on texture and contrast instead of pattern or color. I want to keep enough variety to feel like I'm making different looks, and in that sense I feel successful. I like the small number of colorful garmets I add in the mix occasionally — mostly garnet reds, dark blues, and of course beige and camel.
I want to blend harmoniously with my environment no matter what I'm wearing. As someone who takes great care in her home design as well as personal style, it can be difficult finding balance between the two. My home design tends to have more rich washes of color and pattern, so I don't want my clothes to compete with that. I'd like to explore more about this balance in the future.
Last night I got some old pictures from my dad's house and am in stitches over the 70s and 90s styles. I can't believe the 70s existed. The lapels! The hair! I'm so glad they did though.
My mom was meticulous about documenting her home redecoration explorations and so in addition to the candid and posed family photos I found great amusement in, I also found the photographic evidence of the floral tapestry pillows I adopted recently. It does not disappoint:
Do you ever think about how your personal style and home design fit together? Are they completely different from each other or do they mirror one another? Do you care about one more than the other?