Feb 5-11, 2018
February 5, 2018
Easing into the week with a boxy stripe top and skinny jeans. It doesn't get much more basic than this. The last thing I want to do on a Monday is fuss over what I'm wearing. OK with this becoming a go-to. No need to re-invent the wheel.
February 6, 2018
I had an important work meeting this morning and wanted to wear something unfussy but chic and confident. Just to be clear, my office is very casual so no one expected me to wear a suit. No one even cares what I wore to this meeting but me. But I felt great about it! The Kotn turtleneck is a real workhorse in my wardrobe. I pull it out every time I want to be sophisticated and stylish. And bonus — the meeting went really well. It was probably because of the turtleneck, obvi.
February 7, 2018
I've been doing "Lunchtime Yoga" at work which is where HR has an instructor come in once a week and a bunch of people from the office do yoga in a dark conference room. In order to minimize the changing of clothes that I have to do during the day I wore a sports bra under my regular clothes. I don't know if that's the problem or if it's just this shirt, which I reach for less and less because I never like the way it drapes on me. It's a pretty standard boxy drop shoulder top from Loft, but I feel like maybe the tighter crew neck makes it too blah? It's also a poly-blend which get's it's own very specific kind of pilling :-( I haven't shopped at Loft in over a year. For a minute I was able to find some good looking pieces at good prices, but now that I'm more interested in ethical and sustainable goods, it hasn't been on my list of places to shop. This shirt is a hold over that I might consider transitioning out of my wardrobe. It just doesn't perform as well as I want it to.
February 8, 2018
I'm really digging this outfit. It's very simple. The top is a sweater tank from my mom that I took the sides in on. I never understood sleeveless sweaters but in this case I'm really into how the fabric stretches and lays. A sleeveless sweater is a bizarre concept because if it's cold enough for a sweater why would you want to be sleeveless? But with a cardigan over the tank, it's kind of six or half dozen — your arms are still covered. As far as fabric, if this tank were just regular jersey I feel like the fabric would not have enough heft to drape and hug how this one does. I'm also really int the neckline on here. Not a super scoop but not a constricting crew either. It's a good top! I plan on getting a lot more use out of it this spring.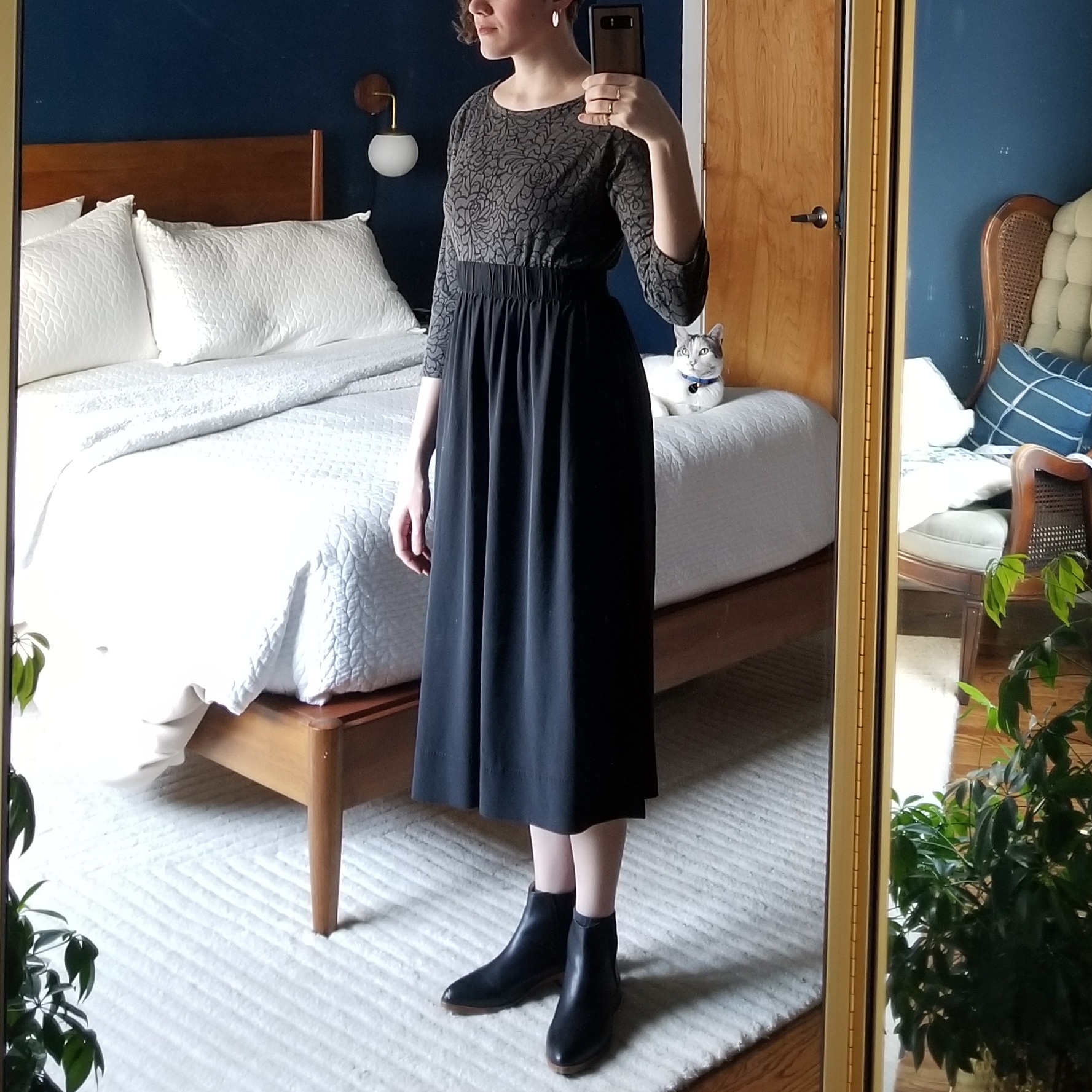 February 9, 2018
Yeah, I know it's supposed to be Jeans Friday but it takes me until Friday to want to wear anything beyond jeans. I'm giving the Elizabeth Suzann bel skirt another go round. The last time I wore this it was paired with a plain crew neck sweater and knee high boots. I felt very evangelical. It was terrible. This time around I think the ankle boot and bare calf helps keep it from being so buttoned up. The silk skirt drapes beautifully. I'm also wearing a hand-me-down t shirt from one of my aunts — the dark floral outlines are burned out. I like the monochromatic scheme, which I think also helps keep the looks from being too blocky. I like how small the top is proportional to the flowing black skirt.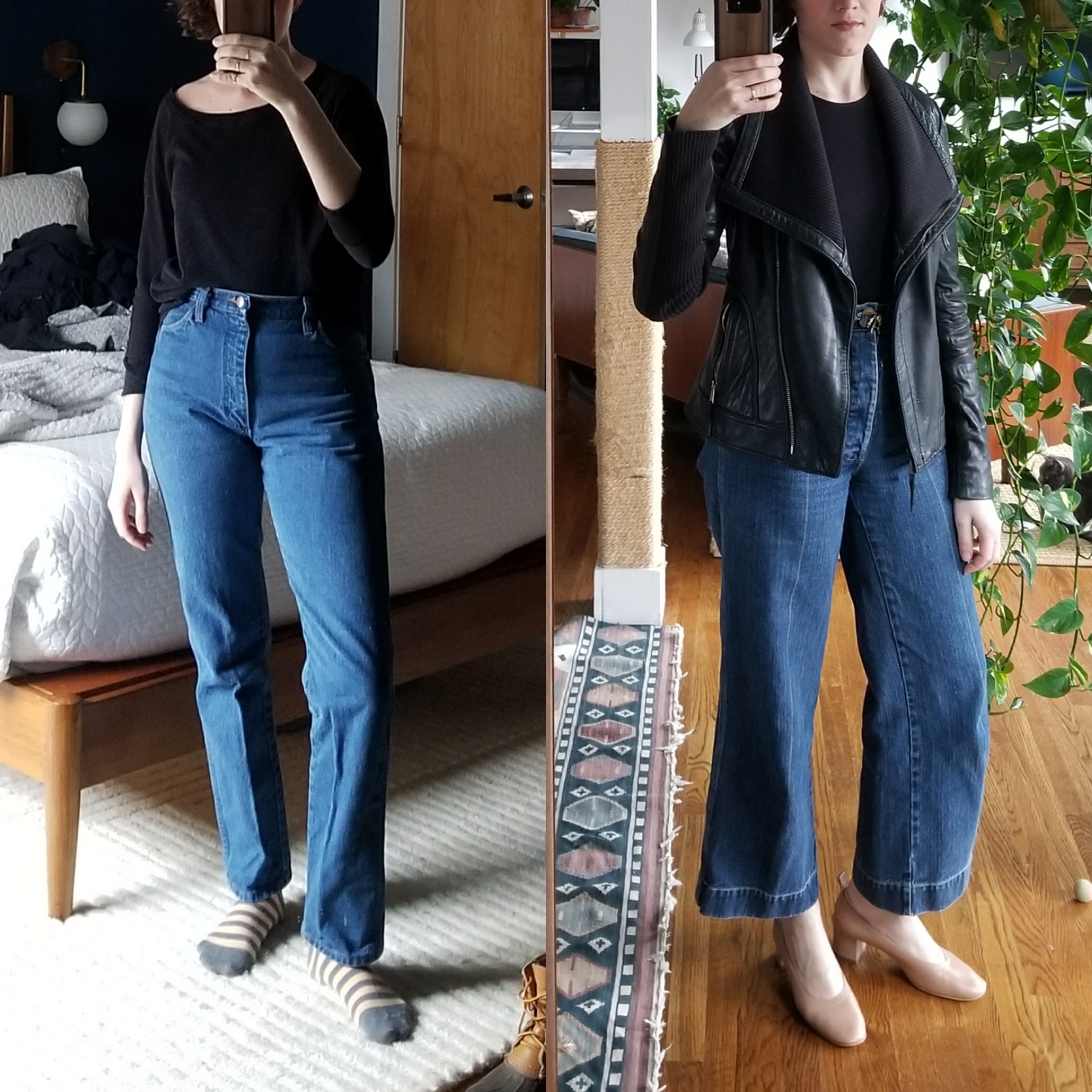 February 10, 2018
After doing some studio work in the morning (wrangler jeans and an old dolman sleeve top) I ran home to change clothes to go on a marathon friend visiting tour. Subbed in Caron Callahan wide leg stewart jeans and an Amour Vert black top. I originally had on silk ES florence pants but thought it might be too formal for occasion(s) but I wore my Everlane heels with the jeans and I feel that struck the right balance of polished but casual. Whenever I've been working in the studio I always want to change things up in the opposite direction later on. This side by side I think shows how you can change small things about a look to project a different attitude and formality. Still wearing jeans and black top, but it's a completely different look.
February 11, 2018
Yep, I'm wearing the same thing I wore yesterday. Black top + work jeans + duck boots for the rain. Layered on a puffy vest to go full mountain-woman. Enough said.
Thanks for sticking with me while I get through the busy season at work.
Without planning on it, I had a full work week of wearing the new-to-me Nisolo chelsea boots. They are still a little snug in the toes when I pull them on but it's not uncomfortable, just noticeable for like a minute until my feet adjust. The rest of the day feels fine. I can tell the leather has stretched around the toe area a little when I stick my hand into the shoe. I'm hoping they continue to gently mold to my feet and am planning on doing a post dedicated to the boots when I come up for air soon.
My favorite look this week was Thursday. Its not a groundbreaking look but I'm just really pleased with how the sweater tank looks on me, especially tucked into the jeans. Fabric really does make a difference in how things fit! This same top in a jersey would not hug me the way this knit does. I'm starting to wonder if I could do more winter looks like this with shell sweaters — something sleeveless layered under a cardigan.
When I get dressed in the winter my usual number one consideration is warmth, so sleeveless sweaters never enter into my mind. But this just goes to show that maybe I need to open up a little. The other bonus is the cardigan sleeves don't have to bunch on top of another sleeve — another win.
Stay tuned for an update later this week on my ES Cecilia pants...