JAN 1–7, 2018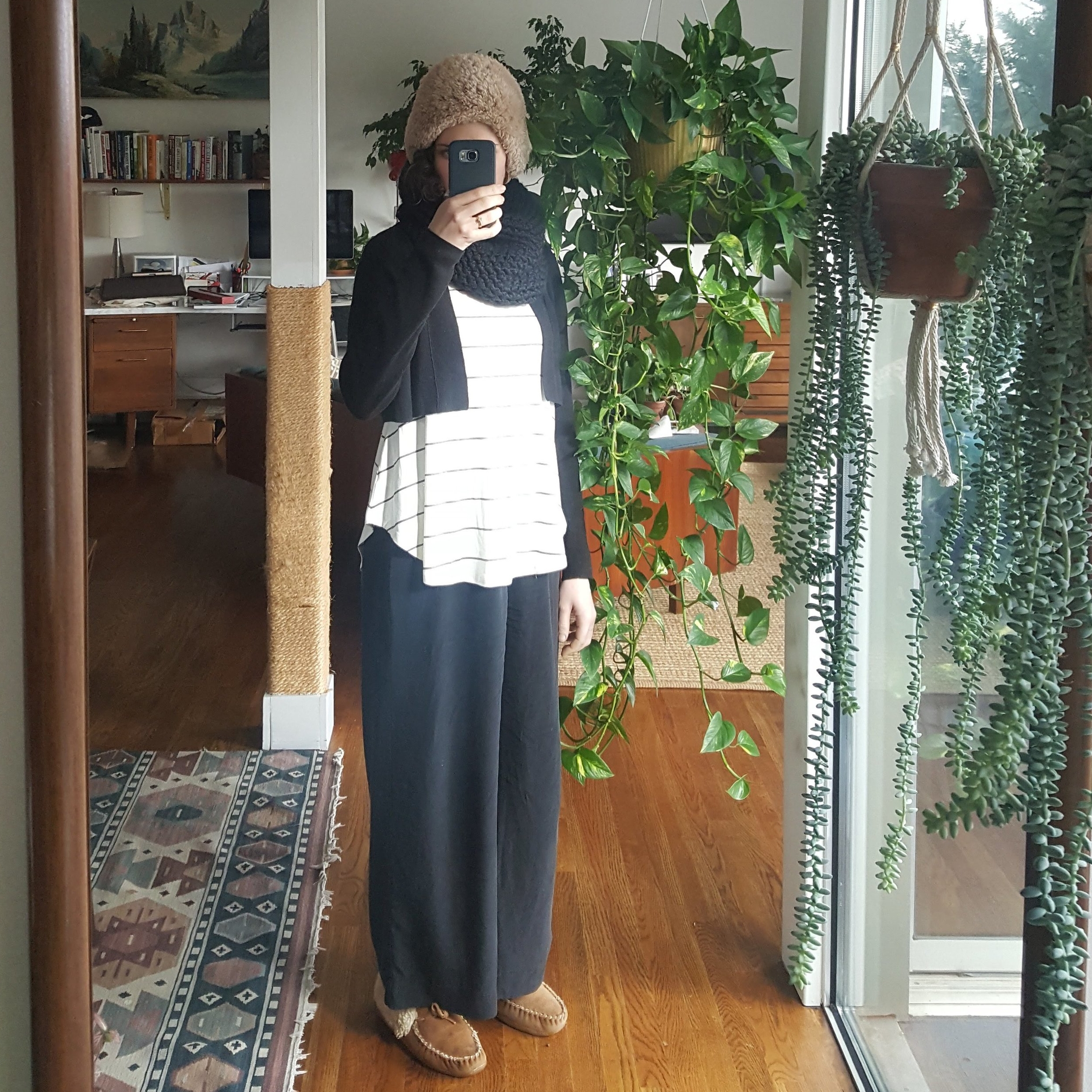 January 1, 2018
Feeling relaxed and cozy on New Year's Day in slippies + Elizabeth Suzann florence pants + Amour Vert top + thin wool cardigan + wool neck thing my sister made + my mom's weird fuzzy hat. We got brunch with my mother-in-law in Cabbagetown. I put on real shoes for that part.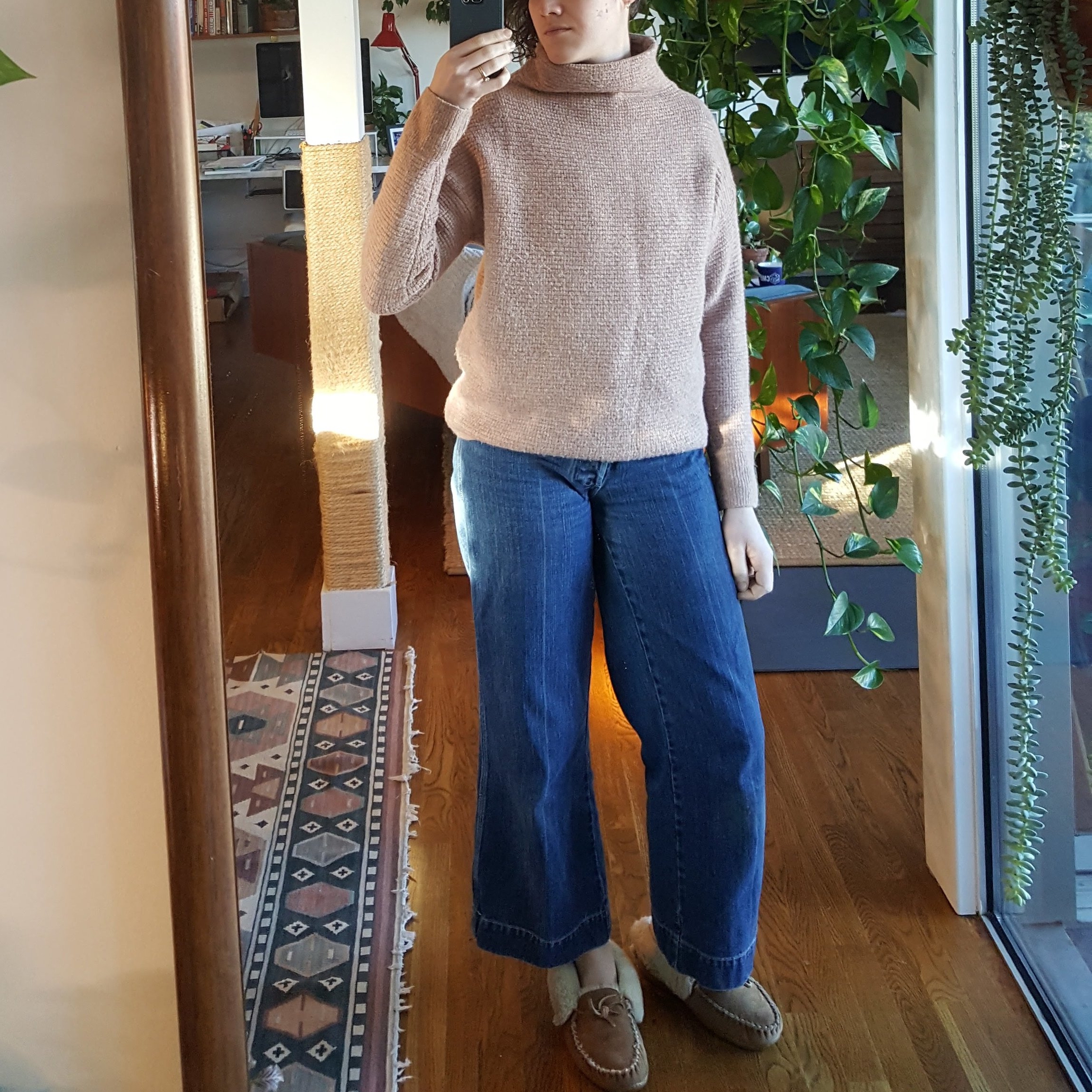 January 2, 2018
False alarm. Was supposed to go back to "work" but work from home until Friday. The required interface is a dud so I extend my vacation instead of pulling my hair out over a computer alone in my home for three days. Really good decision. Haha. I'm in my comfy Caron Callahan stewart wide-leg jeans. I got these in summer and wasn't completely sold on them until it cooled off a little. Now they are probably my favorites. They are not overly long but not really cropped either — what do you even call this length?? But mainly they don't constrict too much at the waist and rise either, like a lot of jeans in this style tend to do. A+.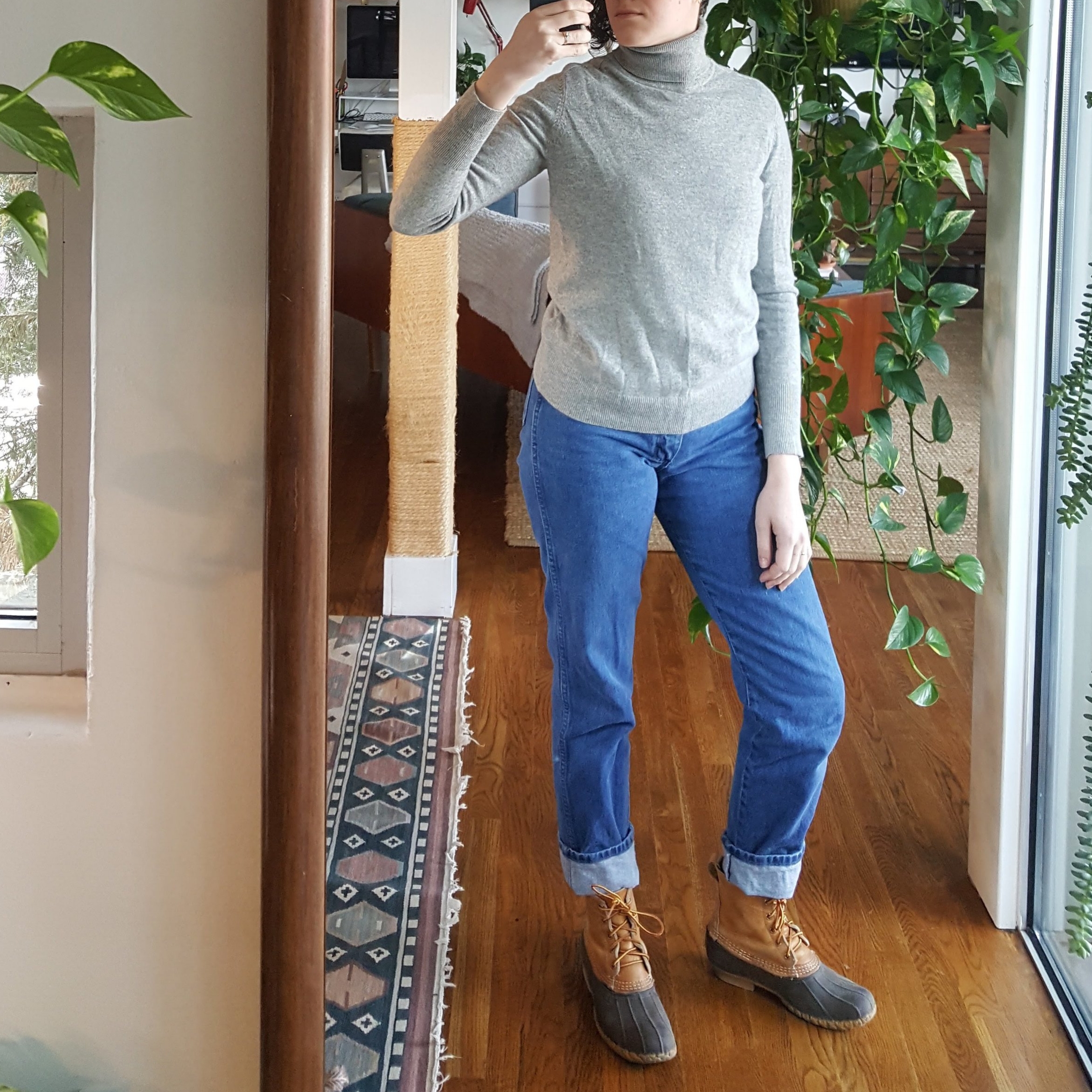 January 3, 2018
I go after my remaining time off with renewed gusto, doing all the errands, making all the appointments, pulling silicone molds off stoneware in the studio. I have really fond memories of these boots, which I bought secondhand off eBay when I first moved to Birmingham, Alabama in 2009. Eventually I had them resoled (cannot recommend L.L. Bean enough for this — you send them old duck boots and they sew new rubber onto the old leather for like $40) and they are roomy enough to wear thick socks under. Very comfortable but also good for the heavy-lifting.
January 4, 2018
CC stewarts with an Everlane sweater over the Kotn turtleneck. It's a lotta look, but I don't hate it? This is my last day of vacation and I spend it doing more errands I can only do on a day off, meeting a contractor who will give us a quote on remodeling some areas of the condo, then baking this butternut squash lasagne before heading to a studio member's meeting. I've been good so far this year and stuck to my two-day a week workout plan. :-) It's what I did before for a year and a half so I know I can do it.
January 5, 2018
For my first real day back at work in the office, I wear what I will now dub the Power Outfit — Elizabeth Suzann florences and Kotn turtleneck. I feel invigorated on my 3/4 mile walk to the train in 22 degree weather. I wear not one but two pairs of long johns below the silk pants in addition to three layers on top. An OK day back to work.
January 6, 2018
More heavy-lifting errands as I drop off recycling to CHaRM facility, pick up a coffee table from the Habitat ReStore, and clean up my studio. I'm on my hands and knees picking through cobwebs, dead spiders, and dust all afternoon. This is a working outfit. The Wranglers I bought secondhand, having fallen for the mom jeans moment earlier this year. I almost passed on them because while they technically they fit, there is not a lot of wearing ease to speak of. Not great for sitting all day, but they feel durable and sturdy and stay out of the way when you are active and moving about. I can climb ladders and lift concrete things and feel like they will not tear and also that they will actually be more protective of me physically than a thinner pair of pants.
January 7, 2018
Another backwards shirt day — I decided I like this deep v Everlane cashmere sweater with the v in the back, which gives the new front a more flattering boatneck. Still gotta keep the wool neck thing for warmth. Barely left the house today as I wrapped up some projects around the condo like reattaching the cable railing in the loft after taking it down last week to let the movers access my work table up there. Waxed the dining room table. Cleaned the kitchen sink. Did a load of laundry. Fussed over my plants. Made three meals for my husband and myself over the course of the day, which is sort of unusual because we've been eating out a lot lately. I feel like as long as you've got Monday night dinner figured out before it happens, the rest of the week goes infinitely better.
A pretty good first week of the year. I'm learning how to lean into the extremes of my wardrobe instead of ending up somewhere unhappy in the middle. I need heavy-duty workwear to feel comfortable in in the studio because it's messy and also really cold this winter, but I also want to be more elegant looking in the office and just out and about. The silk culottes fill the elegant category, but would not be good for studio work. The Wranglers are a heavyweight jean perfect for the studio but not so much for sitting at a computer. Don't choose, have both. They serve different purposes and I have the room.
There was discussion yesterday on Michelle's blog about the practice of obscuring one's face in blog and social media photos. For some folks it's a very practical and necessary step. For others, like myself, it's a preference but not a requirement, a reaction to the era of oversharing on the internet. Sometimes it feels like if you don't have an invisible team of professional photographers documenting you modeling candidly every day, you aren't a real blogger. Well I guess I'm not a blogger. But I am writer, and I'll be darned if I don't also have a cellphone that takes decent photos and a mirror big enough to fit my whole height. That doesn't mean I have to share eeeverything though.
I'm not hiding or reluctant to attach my identity to this project, I simply find it easier to go through this process of documentation with a little more privacy in tact. Like, if I'm gonna be posting a daily photo of myself for the entire world, I'd like to withhold just a little bit. The bonus of this is I believe the clothing, story, and styling remains the focus of the blog, and I don't have to worry if my face looks weird in that one shot, lol.
I got a new phone this week after months with a semi-broken one, and it has that iris scanning/face scanning/fingerprint security technology. I've yet to opt in because it kind of creeps me out a little. My husband just read me this article that was about how some home audio systems can get hacked and the ones with those personal assistants especially can get loaded with weird audio that tells the assistant to do things and buy things. I know there are cameras everywhere out in the world and you get recorded all the time, but then I'm also the person with masking tape over the camera on my laptop. There's so many opportunities to have your identity blaster out to the world or invaded or compromised.
My point is basically that privacy is kind of a luxury good at this point. It's a fine line to walk balancing convenience vs. privacy. And what is privacy anyway? If you have nothing to hide, the argument goes, then why worry? I don't know, I guess in an age of everyone knowing everything about you with a few clicks, it's nice to keep some things to yourself, even if it's just a face. Sometimes the whole world is too much and you want to retreat to a quieter place.