JAN 15–21, 2018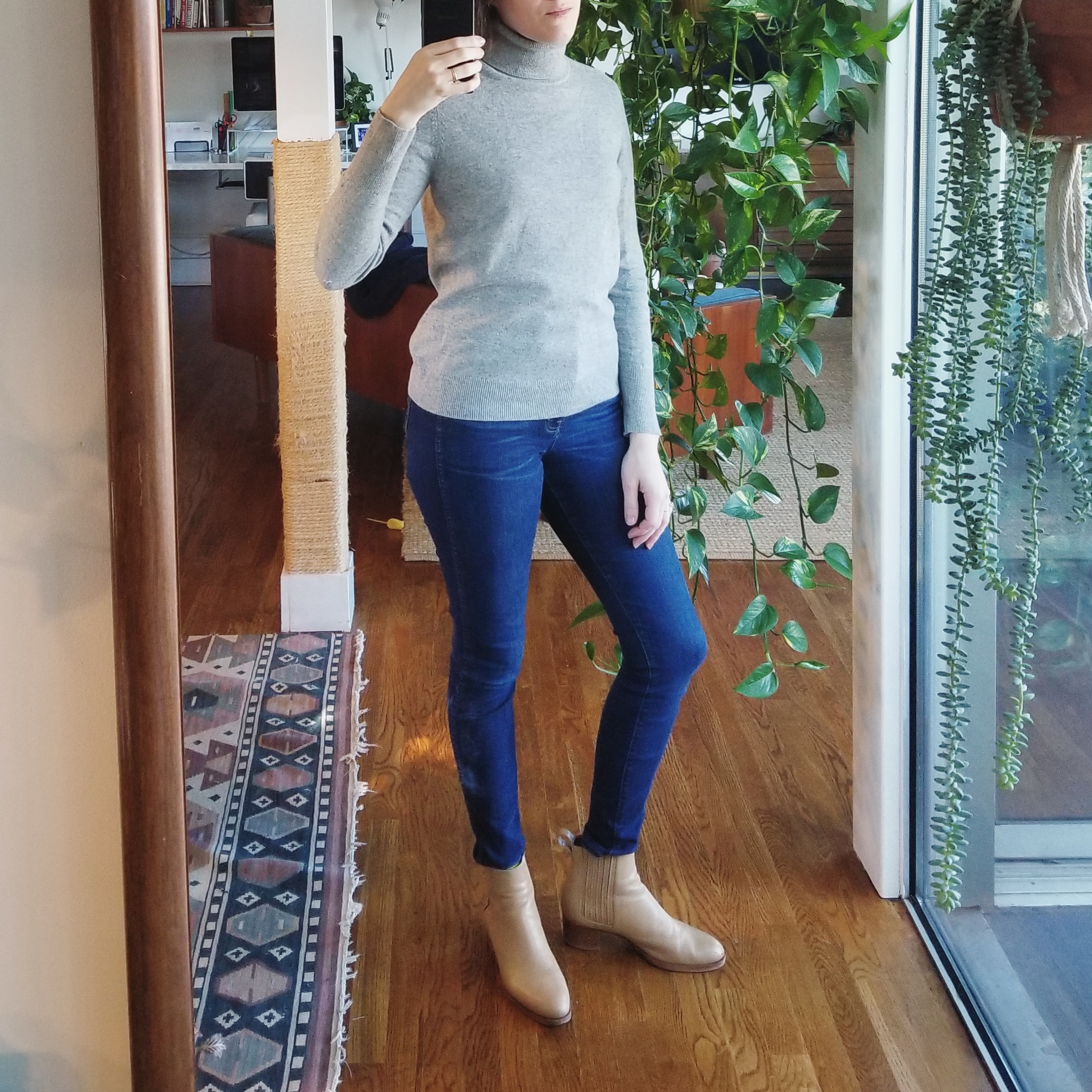 January 15, 2018
Today I am off from work. I spend the day running errands and relaxing at home. This outfit feels a little boring — skinny jeans and a turtleneck — but it's supremely comfortable and most of all, warm. I think too much emphasis is put on always being unique. What's wrong with easy?
January 16, 2018
Back in the office today. This could be another potentially boring outfit, but I think the wide leg jeans always save things from being boring. I mentioned in my last post how I feel like bottoms can bring so much to an outfit, and this is case in point. A plain crew neck sweater and boots, sure, but also the cool pants — it's another easy outfit to throw on and still look cool.
January 1, 2018
Snow day no. 1. Worked from home in the morning and then got all prepped to go into the office at noon before getting word the building would not going to open as planned. Streets are truly icy. I was in a bad mood this morning because I hate when plans get disrupted. By the afternoon, my husband has put his conference call on headphones and a pot of chili is going, so it's not all bad. It is however really really cold out. Our home is difficult to heat in the winter so I spend more of the day wearing a blanket as a scarf.
January 18, 2018
Snow day no. 2. I'm not happy with this outfit. I think cabin fever has set in and I put on the clothes I think I should wear instead of what I actually feel like wearing. I'm home alone today except for the HVAC guy who comes in the afternoon for a routine tune-up. The tucked-in sweatshirt is sort of a disaster. I should have just worn it untucked but I feel like with these jeans I need to highlight the interesting waist. With any other sweater or top it would have been fine, but this one is just kind of bulky and doesn't take well to the tuck. Lesson learned, and the only person who saw me is the HVAC guy and you, the entire internet.
January 19, 2018
I found the exact boots from my wishlist secondhand. The right size, the right color, everything. I almost wear them today until I walk out the front door and look down at the parking lot, which a sheet of ice. I think better of my footwear choices and switch to duck boots before walking to the train. I'm happy with this outfit — another sweater tucked into wide legs. It's a formula I feel good about.
January 20, 2018
We had friends over last night, at which time I changed from the Caron Callahan jeans into these Elizabeth Suzann florence pants in silk crepe. After that late night, I feel so cozy and comfortable that I sleep in the silk pants... and continue wearing them in the morning... and when I go run errands. They've retained some wrinkling around the lower legs but I don't care. The weather, after a week of below freezing temps, feels amazing. These pants are like water, smooth and flowing.
January 21, 2018
Today I sleep in, and when I get up my husband calls me to step outside... amazing weather. Sunshine. Sixties. We decide to go on an easy hike out at Arabia Mountain, which is about 20 minutes outside town and also the place we got married. It's like a less popular, miniature Stone Mountain, a big granite rock outcropping surrounded by woods and a lake. I pull out my old hiking boots (that I got when I was 14 and they still fit!) and debate between long fleecy leggings and normal 3/4 activewear leggings. I go with fleecy in case it's cool in the shade, but compromise by wearing a long-sleeve top I can take off if it's too hot. The floral sports bra peeking out is a splurge from last year. Had to have it. Look for every excuse to wear it. Here is the perfect excuse!
The double snow days this week really threw things off a bit. Overall I'm falling into a nice pattern of sweater + jeans of some kind that I feel comfortable with and also in. I noticed a lot of folks on Instagram are doing the 10x10 challenge. I don't have any desire to do this challenge as it feels like an exercise in the vein of capsule wardrobes and quantity limits, which I have no real interest in, but it does make me consider what items in my wardrobe are getting heavy wear and what items might deserve more.
The Thursday outfit snafu is a good illustration of making yourself wear something just because you think you should. I felt like, I'm working from home so I shouldn't put too much thought into this outfit, but also, I should wear these two things because I haven't worn them yet this week. Don't think too hard, just put it on.
Turns out, that's not a happy recipe. There might be a right time and context for both of these items, but instead of letting those things happen when they wanted to happen, I forced it out of a desire to give my clothes equal wear.
On the other hand, I ended up loving my Saturday outfit even though I'd slept in the pants. And later on I layered another sweater over the striped shirt and was further pleased. The stripes of the top peeked out of opening of the sweater in a cool, geometric, graphic way. I'm becoming a really big fan of wearing this particular sweater backwards, it makes a lovely boatneck when viewed from the front, and an unexpected low back.
More Saturday, less Thursday please.