Jan 22-28, 2018
January 22, 2018
I bought this cardigan with the express purpose of cutting off the bottom to give it a cropped length. I used knit hem tape which made it very easy and left a professional looking hem, which is not easy with knits. It's a warm cashmere and I love the big shawl collar. Here I like how the crop of the cardigan lines up with the horizontal stripes on the tee. Styled here with Elizabeth Suzann cecilia pants with duck boots for rain.
January 23, 2018
Another Amour Vert tee today, this one is super boxy so I layered it over skinny jeans but leaned into the boxy with another boxy cardigan. Thought I'd try my feet at open flats today since it is infinitely warmer out now that it was this time last week. I didn't freeze but I definitely put socks and slippers on when I got home from work.
January 24, 2018
An old standby at this point, sweater tucked into wide leg jeans with camel boots. Can't go wrong. I hate that the bed is unmade in this photo but if you cherish cats like I do, the last thing you'd ever do is rouse them from their sleep spot unnecessarily. If you are looking for beautifully styled professionally shot outfit of the day photos, look elsewhere.
January 24, 2018
I'm throwing in this bonus loungey look. When I got home from work today I immediately took off my bra and put on sweatpants. I never tie the drawstring on these pants and they fit so loose, gently resting on my hips. They used to belong to my mom and now I wear them basically all the time around the house. I don't worry about how they look because I love them and they are comfortable and warm.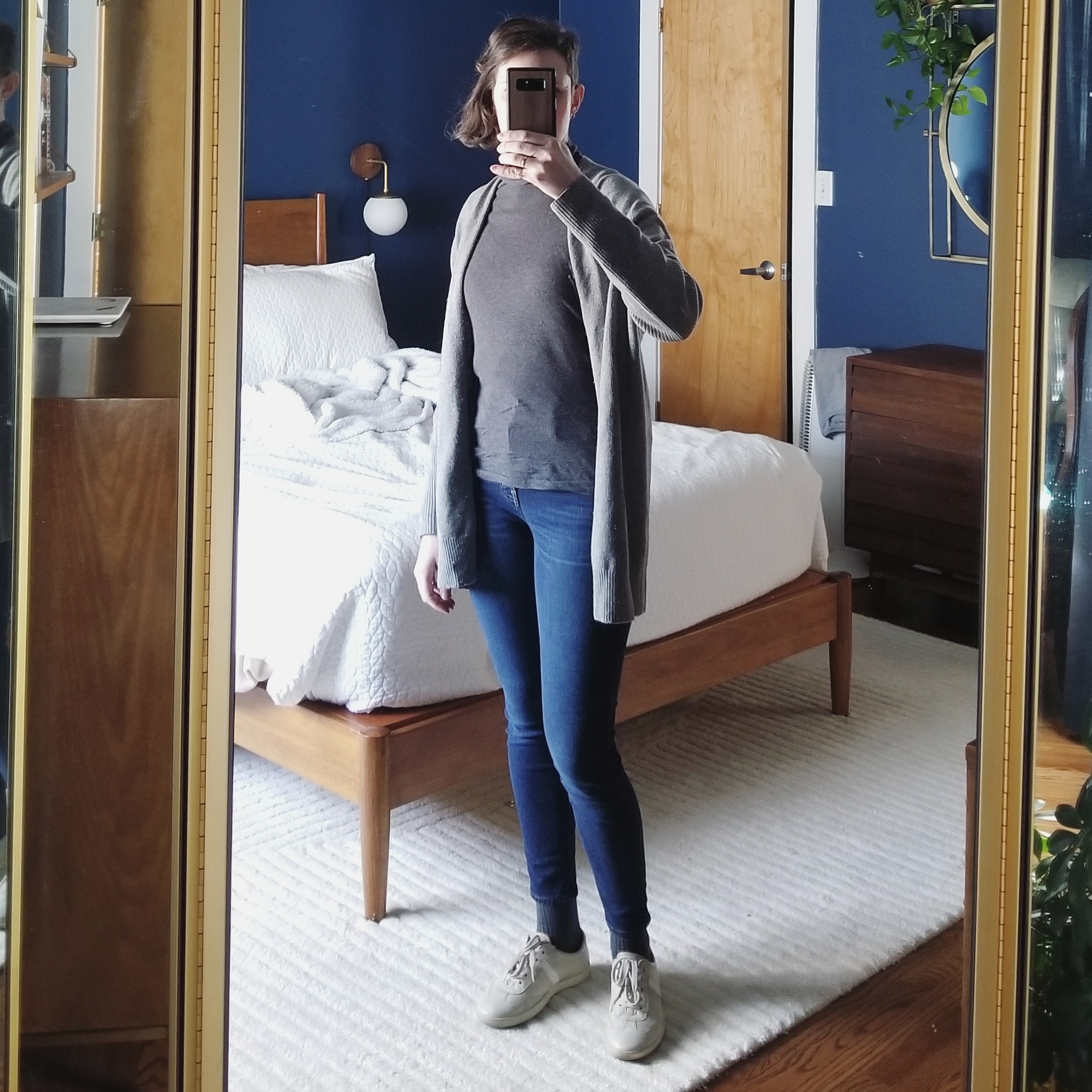 You saw this look in my last post, where I threw myself a pity party and tore it to shreds. I recognize I'm being overly critical when I find the faults. In this particular shot I think this outfit looks just fine — skinny jeans and sneakers, mockneck tee and a boxy cardigan. Gray monotone — great! In another photo of me in this outfit though, I feel like I look dumpy as hell. I'm trying to figure out if it's the cardigan that is kind of dumpy or whether the styling is suspect. Or, none of the above and take a chill pill?
January 26, 2018
So ready for the weekend. Capping the workweek with a return of the camel cardigan. I like how loose and swingy it is but it has regularly cut shoulders (as opposed to drop shoulders) so I feel it doesn't err into dumpy territory (this might be the problem I'm running into with the sweater from Tuesday and Thursday?) but rather stays structured but flowy. I'm wearing a top that belonged to my mom, one I took the sides in on a few months ago. It's just a super basic sleeveless tank but I really like how inky black the fabric is.
January 27, 2018
Had some fun errands today — vintage furniture browsing, then brunch with a couple friends, but also taking recycling and going to the hardware store. This outfit stood up to it all. I like the burgundy tee paired with the cropped black cardigan (can you tell this is a silhouette I like?) and it all was effortless with the wide leg jeans. You can basically tuck anything into these jeans and it looks flawless. Shoutout to Caron Callahan!
No Sunday photo this week. Saturday night I went to a slumber party for a friend's 32nd birthday and it was like we were 12 again — blanket fort (like, legit, adult size, hooks screwed into the ceiling, string lights, amazing blanket fort), all the junk food, piñata, and of course going to sleep at 4am. Sunday I stumbled through in a daze of bagels and cheeto dust. The afternoon was shot. So worth it, but like, I wore basically what I slept in but with pants. It's not a look anyone needs to see.
I hope this coming week is more productive than yesterday was! I need to get back into the studio, and also power through a bunch of office job stuff. I'm hitting a point where I'm in outfit repeat land, which I don't mind, but if I keep repeating I'm worried I won't have anything to say about what I'm wearing here each week? Will I sound like a broken record? How do you write a personal style blog if you don't have anything new to say? Do I even have anything new to say about a sweater and jeans I wear all the time?
For my own sake, it's actually a blessing to have particular garment combos I rely on, but I look forward to the changing of the seasons —hopefully the weather will help me cycle along into new outfit territory soon. It's not that I'm sick of my clothes, because I'm not. It's just I worry I'm going to appear boring on this blog in particular when I'm like, yep, here it is again. I should take my own advice and stop worrying — never got anyone anything but wrinkles.