Jan 29-Feb 4, 2018
January 29, 2018
Wearing these new-to-me Nisolo chelsea boots for the first time since getting them from the cobbler this weekend. They are a little snug in the toes but not uncomfortably so. The ES cecilia pants I'm having second thoughts on now that I've worn them out and about several times. I can't get over the tightness in the calves! It's fine if I situate the pants while standing, but if I sit down then stand up they get caught up at the knees and I find myself wanting to tug the hems back down. Considering selling or trading.
January 30, 2018
I built this outfit around the scarf — another one of my mom's. It's a warm, wooly infinity scarf with a vaguely floral motif in reds, pinks, gray, and beige, so I coordinated with a charcoal sweater and camel boots. Easy.
January 31, 2018
Originally I had on a different shirt (the altered Hackwith Design House button down) but I just wasn't feeling it. This sweater on the other hand always feels very me and very right. I really love the dolman sleeve silhouette. In my mind, dolman sleeves and drop shoulders were always categorized kind of the same, but I realize now that a dolman is really a very different animal with the volume of fabric that needs to drape. It works well in this chunkier cotton knit. Pairing navy sweater with black boots. I always heard the conventional wisdom against this but I'm pretty into it!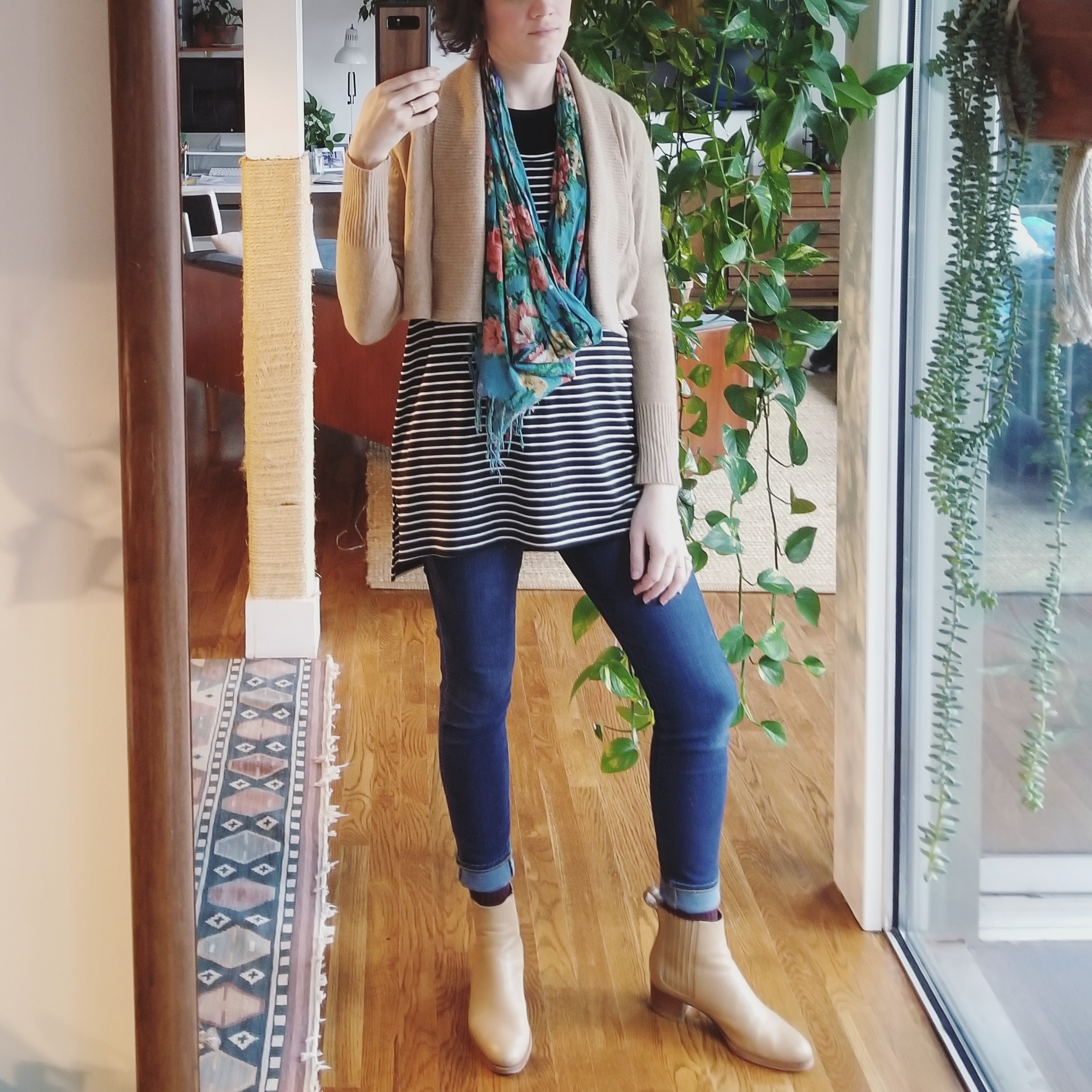 February 1, 2018
This is a lot of pattern for me. Stripes AND floral. I feel like this pairing is sort of cliche but I secretly love it! I also really love black and camel, and here I double down with camel boots AND camel cardigan. On a whole this outfit feels very busy but also I wonder if it didn't give me a little injection of energy for my day?
February 2, 2018
Skinny jeans ended up ruling the week, dethroning the Caron Callahan wide legs from their place atop the outfit pyramid. They are just so easy to pair. Here I pulled out this sweater that my sister gave me a couple years ago. I always love this sweater but haven't worn it much (at all?) this winter. It's a 3/4 sleeve length so not ideal for the colder temperatures, which I found out Friday night when I left work. Before heading out again to meet friends for dinner, I layered my black turtleneck underneath and was quite happy. Maybe I'll save this one for spring.
February 3, 2018
I spent a good chunk of the day in the studio, which I've been avoiding lately because 1) the cold and 2) I'm afraid of taking next steps on a couple projects. But it felt good to get back in and do SOMETHING, even though the specific project didn't pan out how I hoped. This sweater is old from Madewell and it's all pilly. Need to give it a good shave, but in the meantime it's loose and comfy and warm and I don't worry about it in the studio. These are my workout sneakers but I like to wear them when I want a little bounce in my step. They are kind of a summer shoe with all the mesh, but I guess I'm just tired of boots all the time. Spring come soon please.
February 4, 2018
I'm really digging this outfit. I wore this to drive up to the suburbs to have lunch with my dad. It's the inky black top from my mom, my go-to black wool cropped cardigan, the wooly neck thing from my sister, Madewell skinnies, and Nisolo chelsea boots. It's like, black, but not too black — I think the denim saves it. I like that the different pieces could almost become one black garment but also the textures and layers stand out as their own thing.
A pretty good week of outfits. The only missteps really were needing to change tops on Wednesday and adding a layer for warmth on Friday. Although I do want to address the Elizabeth Cecilia pants on Monday.
I know Grechen ultimately passed on hers because of the calves, and now I'm leaning the same way. I like everything else about the pants, and in the car Monday night my husband brushed his hand across my thigh at one point and even commented on how he liked the pants (I think he's sensitive to texture, he has a pair of pants we refer to as the "soft pants"). To which I responded immediately, "Well don't get attached I'm thinking about selling them." Lol.
But the whole having to tug down the hem thing is starting to bother me. I really hoped for more of a cigarette pant that was more open in the calf, but these are undeniably snug. Somehow, my skinny jeans don't ride up this way even though they are definitely snug in the calf, built for it you could say.
I wonder if, counter-intuitively, a size 4 would address this issue (I'm currently wearing them in a 6) by being tighter throughout the leg. BUT I like how the waist fits now, and I don't like pants too skin-tight especially in the thigh, UNLESS they are stretchy skinny jeans. I'm kind of annoyed to be honest, because these would be amazing pants if they didn't have this issue. I don't even think I have particularly large calves.
In the spirit of not keeping around things that don't fit properly or that cause discomfort, I think selling or trading is the way for me to go. Trying to figure out if I should sell, pocket the cash, and use toward any other item on my wish list, VS. utilize SellTradeES and see if I can't just swap for a different pre-loved ES piece. There are a few ES items on my list, so it could be worth it to do a trade and hopefully avoid any big market value loss that would come from a sale. The only issue is needing to be quite specific about what I want if I trade, and I don't know if I have it all nailed down yet.
I checked the SellTradeES ISO spreadsheet but also no one is actively looking for size 6 cecilias. I feel like there should be a corresponding spreadsheet for folks who have those items they are willing to part with, just in case someone hasn't asked for an item but sees it is available? But maybe that's just what the whole account is for, haha.
ES items I have my eye on: the Ella tank in black silk (ORRRRR what about rust? Would color be good? I have so many black tank-y tops and a black silk buttondown... maybe color would be good); the Andy trousers, again in black silk (but is that too similar to florence pants? And again maybe I would love rust for something different); but what about Andy trousers in linen for summertime?; I'm also holding out to see if ES does the clyde culottes in linen, in which case I'd be SO all over those.
While I'm musing about these items, I should also mention I'm so in love with Megan Huntz's new collection. In particular, this pleated midi skirt in raw silk and the similar culottes. I have a bit of a conundrum with black skirts — I have two right now that are trying to fill a similar hole but neither are perfect. One is a knee-length black silk skirt from Grana that has pockets; the other is the ES bel skirt in black silk. The Grana skirt is nice but not quite long enough for what I wanted, and the ES skirt is really great quality and drapes beautifully and is the right length but lacks pockets.
What I want is a midi-length flowy skirt with pockets. What I would LOVE is if ES did the clyde skirt in silk crepe because I'm crazy about how it looks with the billowy pockets. I want the elegance and lint-free-ness of silk crepe but I'm not holding my breath. The Megan Huntz skirt captures the look and feel I want (pockets, length, AND a flat front/elastic back) but is raw silk, so I do worry how much lint it will pick up being a fuzzier texture. I wonder if I should just make my own version, haha.
But anyway, those are my clothing thoughts for the week. Do you think I should try and sell the ES cecilia pants, or try and nail down what specific ES item I would trade for and go that route? I'm hoping to get a good return on investment with them since they'll have been worn just a handful of times. I'm kind of leaning towards trade though because honestly the non-exchange of cash sounds really appealing and redemptive.