Jan 8-14, 2018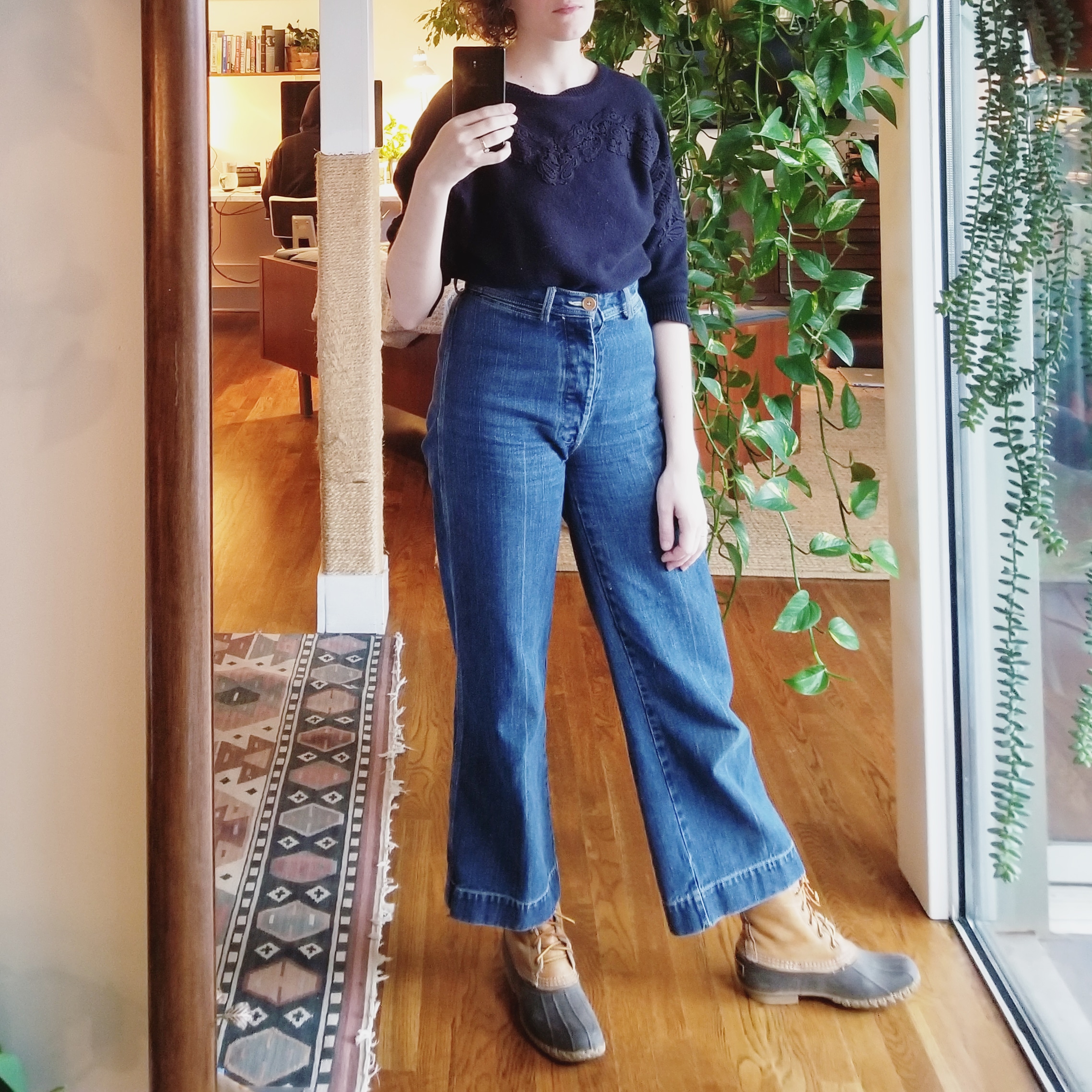 January 8, 2018
I love this silhouette — wide leg jeans with batwing sweater. This, consequently, is one of my two monochrome floral appliqué sweaters I've waxed on about. Atlanta schools are closed today because of the threat of snow! There was none.
January 9, 2018
I'm trying some outfit of the day shots in the bedroom! I love the light in here in the morning and the three-way mirror is ideal for full-length photos. My home design style is a little bit of a reflection of my personal style — somewhat neutral with statement pieces.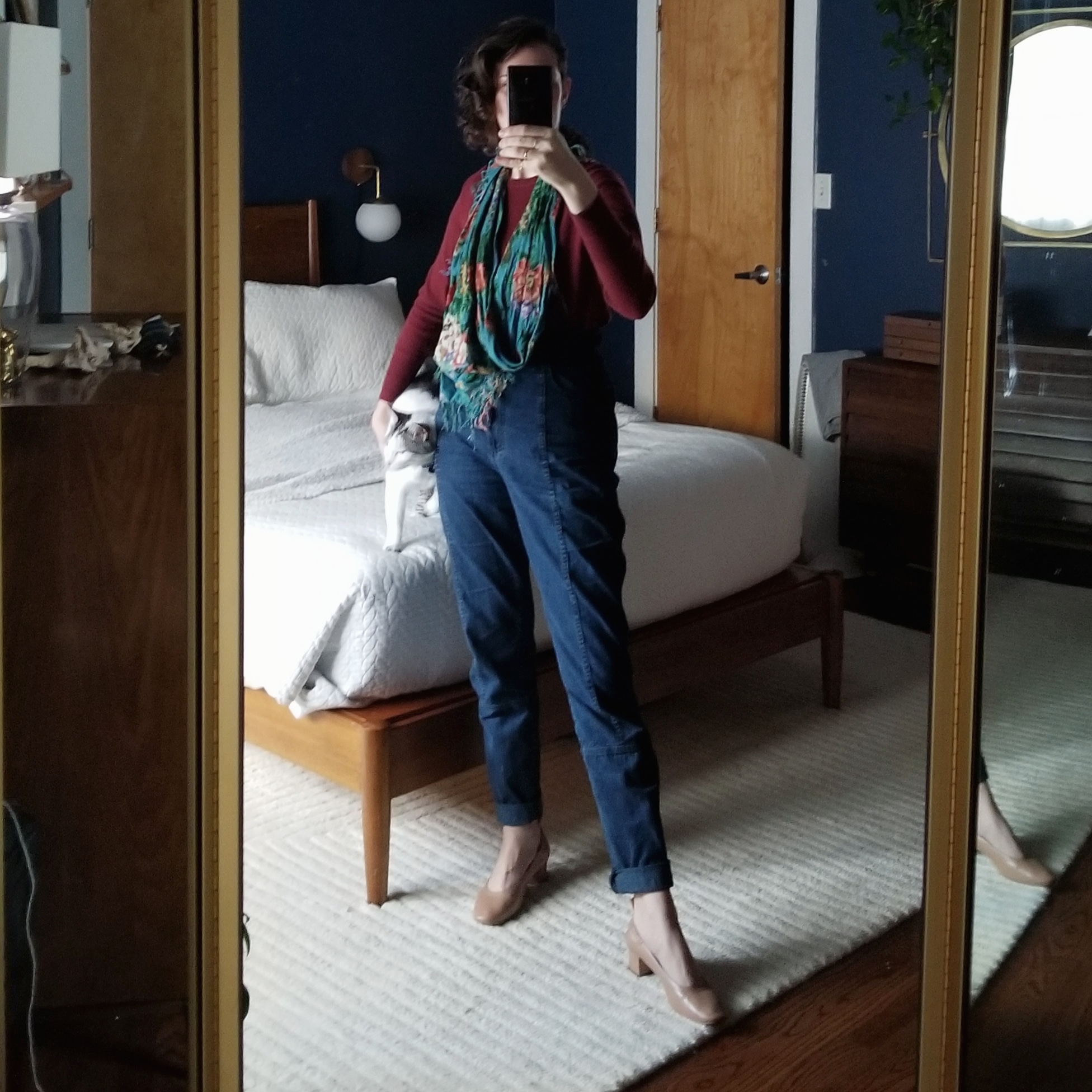 January 10, 2018
I'm really happy with this outfit — Everlane sweater + day heels + Rachel Comey lure pants. I've paired the burgundy sweater with one of my mom's scarves. The sweater on it's own can be a little boring since it's a basic long sleeve crew neck, but with the scarf I think it is a lovely backdrop. This scarf is a loosely woven floral pattern with pinks and rusty coraly reds that I think go nicely with the burgundy sweater. And I think this outfit shows why I love a neutral/nude shoe so much — they can be beautiful shoes but also look like they are just your feet, so they don't overwhelm the rest of the outfit.
January 11, 2018
A super rainy day today. You can't see it but it's like a monsoon for about ten minutes before I leave the house today. This is when duck boots come in handy. I really like these L.L. Bean boots for when I need to brave the outdoors. I've heard complaints that they can be slippery on something like a marble threshold, but the style of this specific pair is actually the Maine Hunting Shoe, and I think that they are well designed to do what they are designed to do, which is brave the outdoors, not marble thresholds. Think clambering over wet logs and dirt. Granted, I don't do a lot of clambering on my walk to the train, but some of our Inman Park neighbors have an aversion to raking leaves off the sidewalks and the hex pavers of the sidewalks are often askew, jagged, missing, etc. So all that combined, maybe I do clamber.
January 12, 2018
The Elizabeth Suzann cecilia pants I ordered last year finally arrive. I got a 6-tall after a series of ES pants that were too short in the rise, but oh boy are these ever tall enough. I check in with a colleague who works in the costume shop to get her expert opinion, and she confirms — the rise is too tall. Now, if I'm being honest, I decide I need to exchange the pants. Oof, another 2–4 week wait.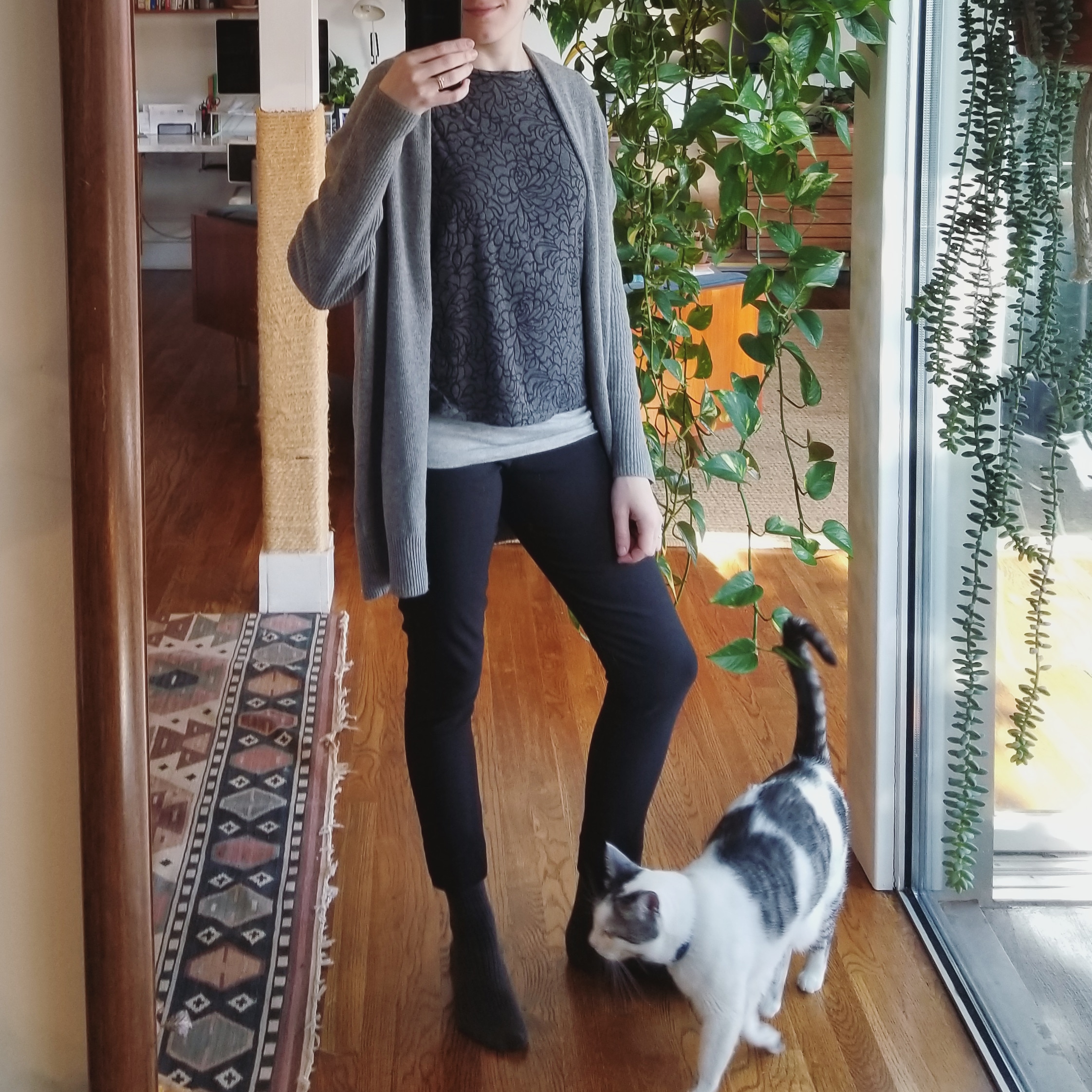 January 13, 2018
Never fear. A fellow Atlanta and ES-wearer reaches out to me over the 6-tall pants. She has a 6-regular but finds the rise too short! We do a crazy thing and meet up to see if we want to swap pants. When I started blogging I legit did not think I would be connecting on such a personal level with other like-minded clothes-wearers, but there ya go. We end up bonding over shared interests and swap pants. The 6-regular seem more fitted in the waist which I think will be good. I might could have gone with a 4, but for whatever reason I fear them being too tight, even though I like the feeling of tight pants in general. I think these will be just fine.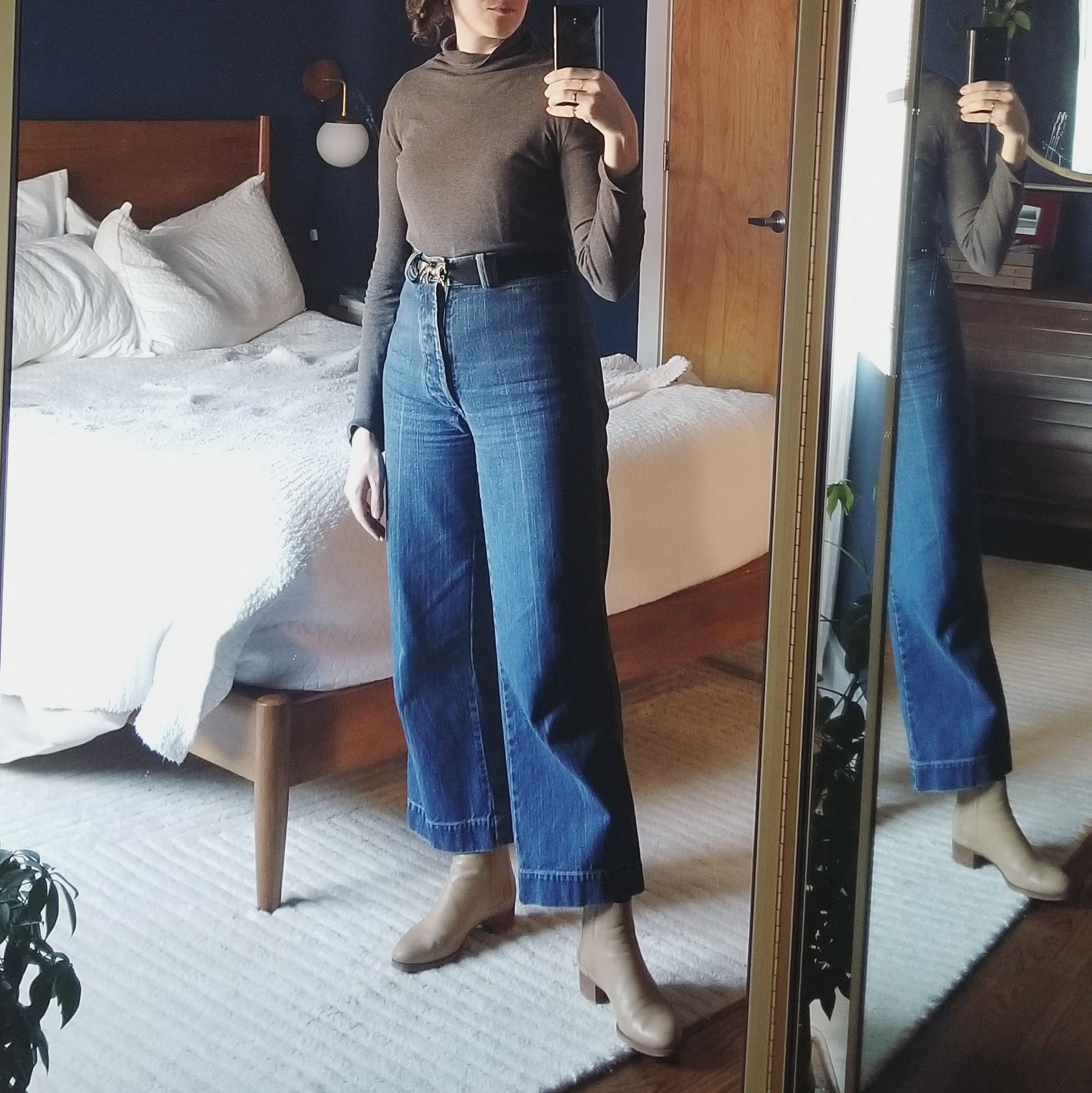 January 14, 2018
This outfit feels really solid, really classic. I'm starting to think these Caron Callahan stewart jeans are the real MVP of the winter. They are so easy to layer my secret long johns under for extra warmth, and the heavy denim does it's own part shielding my legs from wind. That's maybe the key — the wind chill factor. In a way, I feel like the wide legs traps it's own insulating pocket of air around the leg that helps too, even though it's wide open on the bottom. The other great thing about these pants, which when I got them in the summer I wasn't sure about, is the length. They are cropped just so that ankle boots show perfectly. In the summer, they felt too long and I tried cuffing them once which looked ridiculous.
I had some real wins outfit-wise this week. I especially liked Wednesday's burgundy sweater + mom scarf look and Sunday's easy but stylish wide leg combo. The wide-leg jeans look I feel might be becoming one of my signature silhouettes. It's just so comfortable but cool.