JUN 11–17, 2018
June 11, 2018
This look seems like it's become an unofficial summer uniform for me! Black top tucked into beige shorts. I'm OK with that. I like the polished look that the belt gives. It's so easy for summer looks to get sloppy.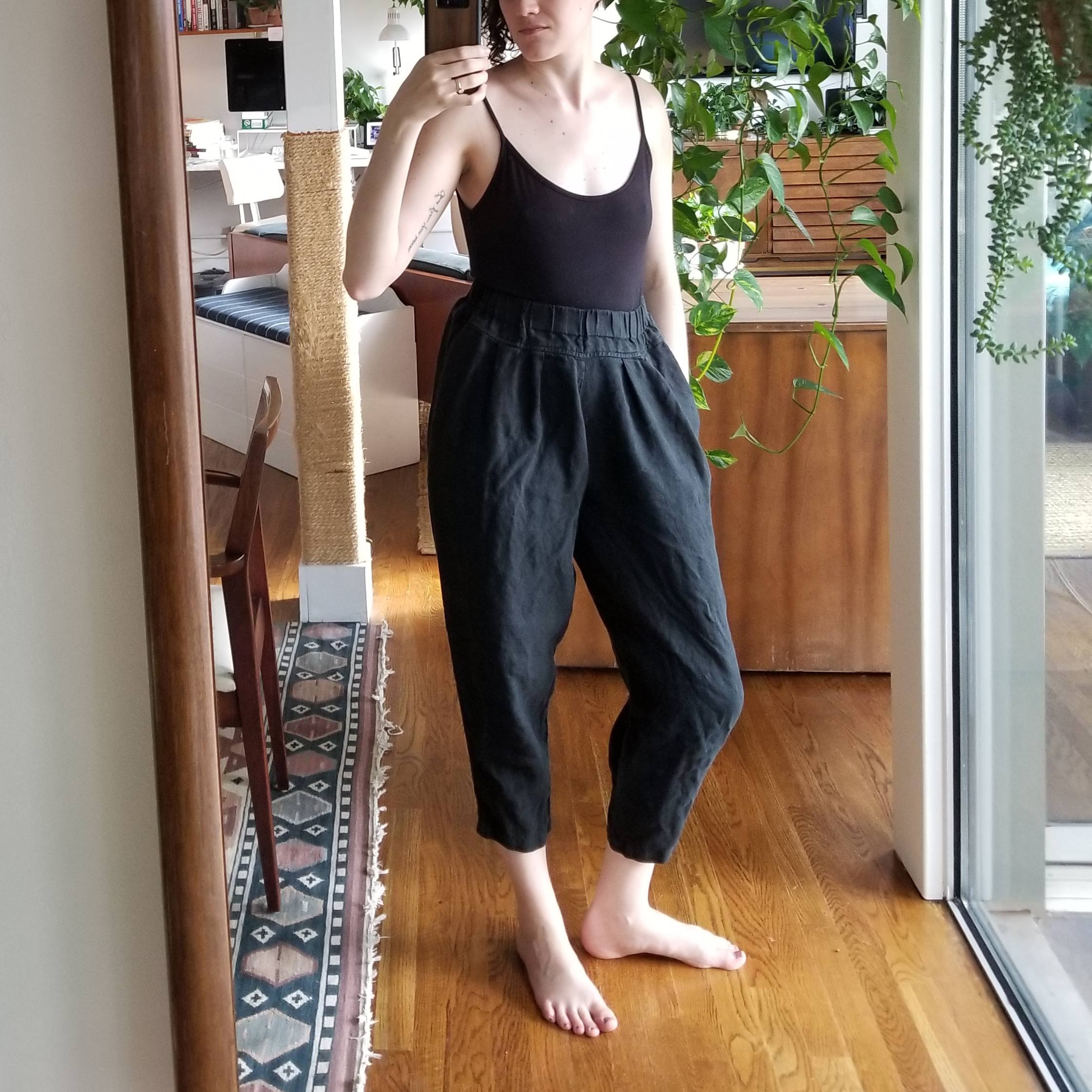 June 11, 2018
And my unofficial summer loungewear, or what I call my "Summer Sweats," aka Black Crane linen carpenter pants and a soft Amour Very tank. So lounge-worthy.
June 12, 2018
First look at the Elizabeth Suzann clyde skirt I snapped up from Noishaf Bazaar last week. Loving the pockets and linen, unsure about the color and drape, but hopeful.
June 13, 2018
Thought I'd try out the bel skirt with yet another striped top, haha. This one's fine! Still loving the boxier silhouette. If you're going for the drapey-over-drapey look, I think the key is finding a top that is fitted around the shoulders so it's not too overwhelming of a silhouette.
June 14, 2018
Work from home day: no shoes of course, but also comfy and casual. Perfect day for some ES linen clydes.
June 14, 2018
Went out for a walk around the neighborhood and thought I'd give the clyde skirt another try. I like the drape better when there's some movement, which I tried to capture in this photo. What was bothering me is how the front and back panels sort of fall into these two pleated panels instead of many smaller drapes. But that's only when I'm standing still, which would probably be rare outside of an OOTD photo.
June 15, 2018
Was feeling a little feisty today and donned my Black Crane jumpsuit for the first time this season. I layered my inky black tank top underneath to give a little more coverage for the office. It's easy for linen to look slouchy but the belt keeps everything perked up.
June 16, 2018
To me this is sort of a casual/formal look. Block heel sandals and racer cut tank with a vintage crystal necklace (it was my grandma's). The linen snd jersey tone it down though. Wouldn't this outfit look amazing in monochrome silk noil!? I took off the necklace before I went out because it felt a little try-hard for going to meet friends for sandwiches. But next time I might follow through...
June 17, 2018
Good old beige jumpsuit. Love this thing. Love it even more paired with the beige sandals! I love a monochrome look.
It was my birthday last week, and I was feeling contemplative and a little reflective. There were many moments I WANTED to write but just wasn't able to form the long-form thoughts for the blog. Lots of ideas and feelings swirling around. Pangs of feeling dissatisfied with my closet. Uh oh.
Objectively, my wardrobe is in a really good spot. It's been winnowed down to mostly favorites. I almost always feel like what I'm wearing is a good outfit. But there are lingering feelings of missing something here or there, and that's lead me to somewhat obsessively window shop (I call it window shopping but it's really tab shopping, where I open 100 tabs of potential yeses and then methodically closes them as I decide it's a no) — all vintage or secondhand.
One of the holes I've identified in my wardrobe is a lack of less-casual tops. I have plenty of jersey tees and tanks, but sometimes I want something a little more polished for summer, something exactly like this button-down blouse by Everlane.
I was really excited when I saw this blouse for sale earlier this spring, however, I didn't buy it initially because I was trying to be more mindful about buying things new. But then it sold out and LORD do I ever regret not buying this thing-I-didn't-buy. I've seen it on a couple bloggers since then and have serious style envy.
Everlane gets a bad rap over whether they are truly ethical or transparent in their manufacturing, and I'd be lying if I said I wasn't even more hesitant to give them more of my money over that. I'm not sure which side of the debate I fall on, but when there are tons of secondhand Everlane items available on Poshmark, I don't have to decide so much. I've been keeping my eye out there for this style to pup up for sale pre-owned, but so far no luck! My next step was: can I find a dupe of this shirt made by a "more ethical" designer?
And bingo, First Rite delivered.
Their cropped blouse is exactly what I was looking for! Lovely notched collar, cool crop, and big sleeves. It has an elastic in the back, which is interesting. I liked it even better than the Everlane version. Buuut it's also about 3.5x as expensive ($210 vs. $58). So that's a no-go with my budget, as much as I think it would be worth it. There are other items on my list this year I want to be able to afford.
But I figured, the style of this blouse feels so classic, how hard could it be to find a secondhand or vintage dupe?
I'm here to tell you it isn't that easy! At least not to get the very specific collar shape I admired, AND in linen, AND with minimal styling. Some tops have the notched collar but not in the more exaggerated, intentional shape I like. Some tops are linen but have extra embroidery or scallop details, which are too fussy. Many tops are patterned, which maybe I could dye over but who knows really.
Finally, FINALLY over the weekend I found a vintage dupe on eBay for $9 ($9!) dollars. It looks like a slightly thinner linen than either of these new options, but it is black, has the big sleeves I like, and has a more exaggerated notched collar. It was really hard to tell from the terribly lit photos, but I have high hopes that this will be a good dupe! Stay tuned as it arrives later this week.
It's really gratifying when all the online hunting works out. I mean, I don't know if it's worked out for sure until I have the blouse in my hands, but I think it will be good. The investigation that goes into finding some very specific vintage or secondhand item is more thrilling to me than just finding something new. And so far, less expensive!
I just need to be careful not to let it get out of hand if my closet is going to stay on the more minimal side. I've mitigated that by being intentional with what I'm adding and making sure the items are able to blend seamlessly with the other items in my wardrobe already. Also, by keeping a spreadsheet of everything I'm buying and selling, it's easy to see the larger growth trend of my closet. While it isn't quite one-in-one-out, it's not completely unbalanced towards addition either.
Every step gets me closer to the mythical Perfect Wardrobe. Like many people, I wonder what happens if I ever get there. Will I just be satisfied and give up shopping forever? Maybe. Probably not.
Maybe it's like one of those parabolas an asymptote that swoops down and approaches the baseline in exponentially smaller increments but never touches, forever and ever.
Let's be real, I can probably always think of something else that would be good to have in my arsenal of shoes and garments. As lifestyle situations and stye preferences change, so too will my wardrobe. But along the way, my wardrobe is getting stronger and more versatile and continues to surprise me as I find new ways to wear the things I've chosen to keep close. What more can I ask for?