JUN 18–24, 2018
June 18, 2018
Continuing in my quest to explore all ways to wear the Elizabeth Suzann bel skirt, I top it with this loose black tee from Ann Taylor. The shirt's almost like a stylized muscle tee — wide, dropped shoulders (as dropped as the shoulders on a sleeveless top can be) and a loose u-neck. It drapes at about the same volume as the skirt, giving it an almost seamless dress look.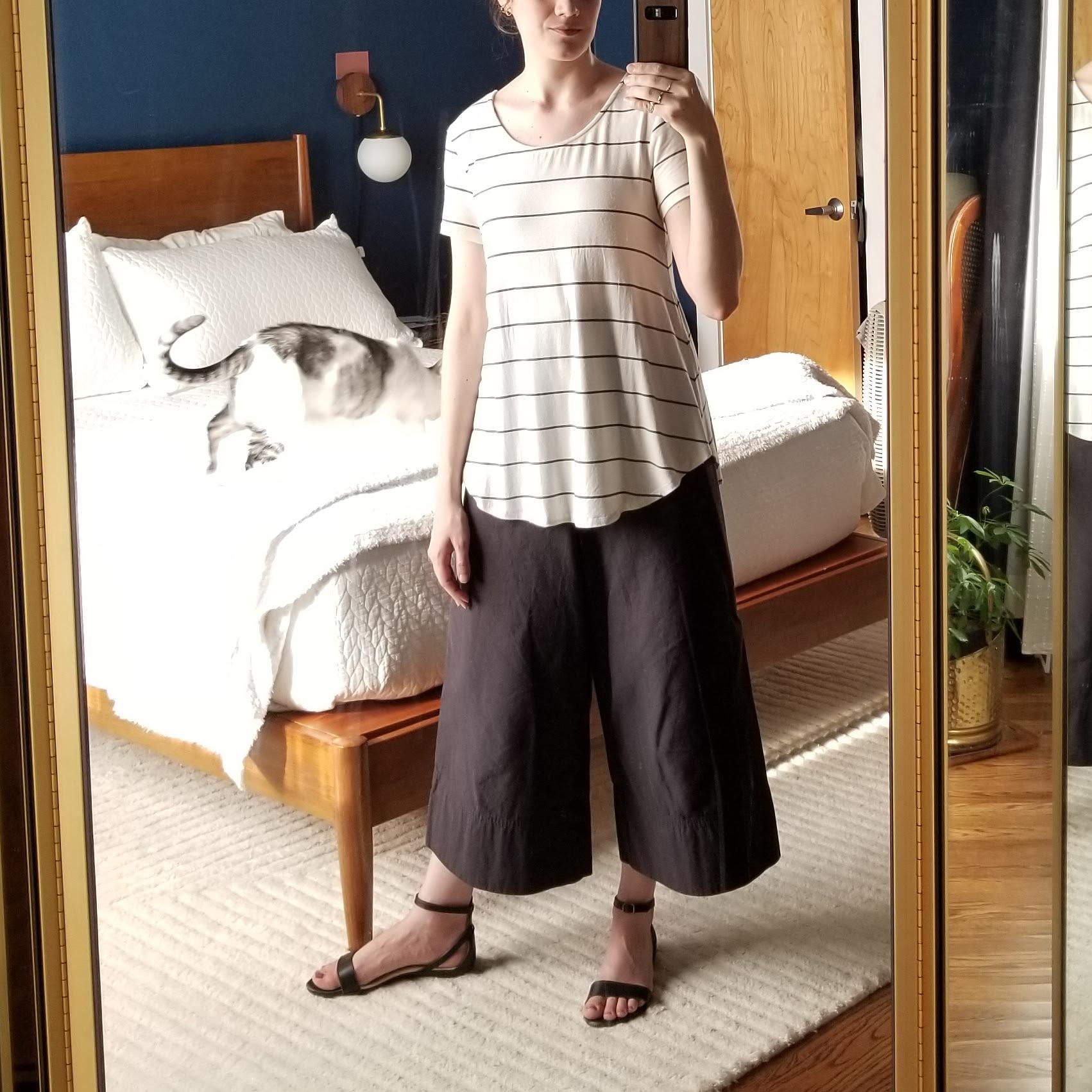 June 19, 2018
Caron Callahan ellis pants! I wore this striped top over the bel skirt a couple weeks ago (Tuesday, June 5, 2018) and loved the look, so I figured it must work equally well over these wide leg pants, right? This is the first time I've paired the pants with an untucked, drapey top and I think it's pretty successful.
June 20, 2018
This is a top I always think I should wear more than I do. The problem is it looks best with a skinny pant because of it's slightly flared/a-line cut. But the last thing I want to wear in the summertime is a skinny pant! These linen ES clyde pants are about as close as I'll get. An instagram reader suggested I crop the top, which I'd never considered. I'd have to look more into how that would affect the size zip; it'd certainly involve reshaping the entire bottom part of the top.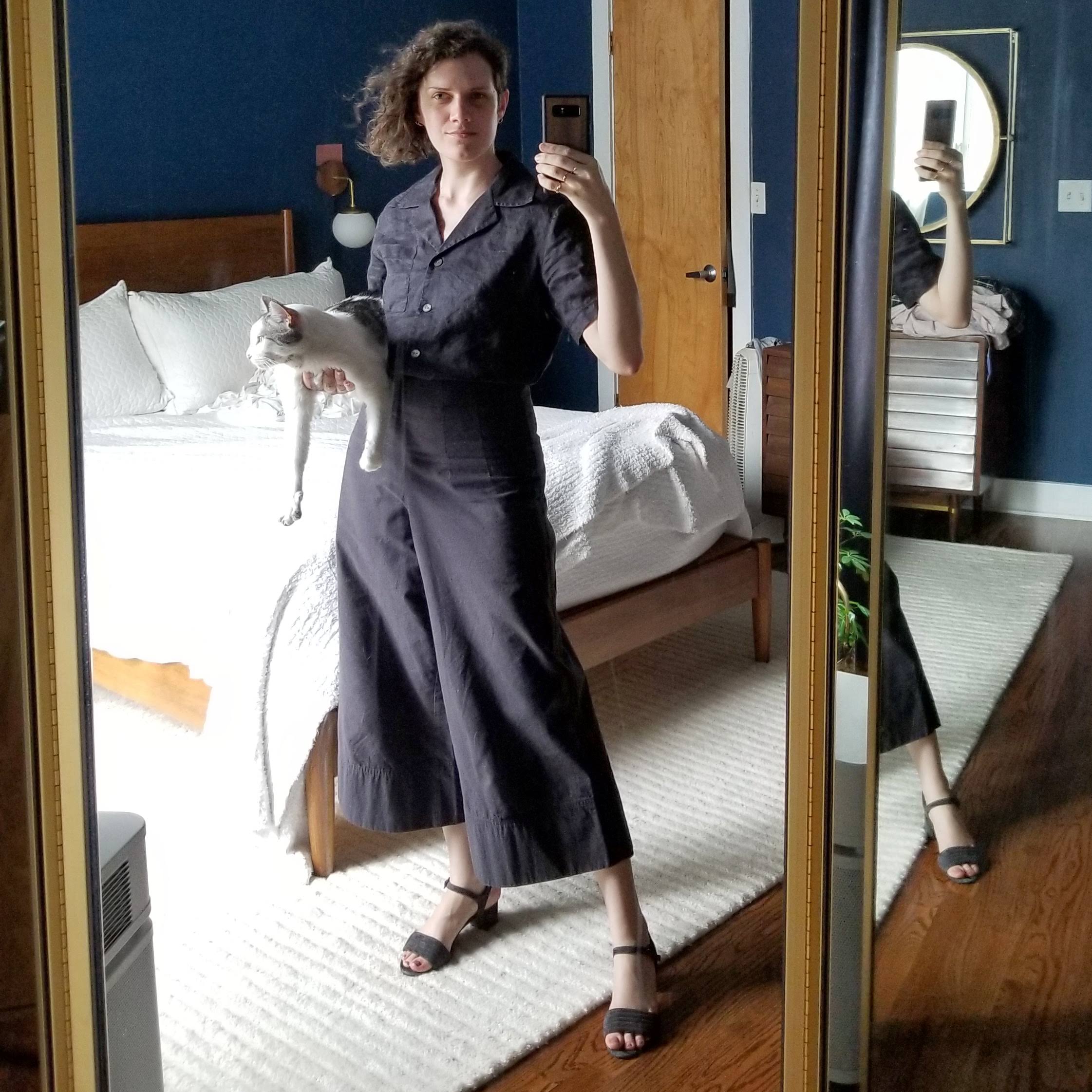 June 21, 2018
Finally! The linen notch-collar blouse makes its debut! Looks killer with everything I try it on with, including the ellis pants from Tuesday. I was standing in front of the air purifier for this OOTD photo, which is why I have such a glamorous windblown look going on.
June 22, 2018
Here we go again with the notch-collar top. I'm in love. It looks killer with these Rachel Comey high waist pants, which in turn look killer with the vintage Coach belt I added to my wardrobe a few weeks ago. These pants came with a skinny self-denim belt that I've always worn them with. It's super minimal and subtle. But I really like how the wider leather belt highlights the waist. This style of pant, where the belt-loop is set lower down on the waist to give the paper-bag look, is on top of my Favorite Looks list right now.
June 23, 2018
Haircut pup! First day with a new 'do. I picked up these navy blue pleated culottes when I visited my aunt in Vancouver almost five years ago now. They still feel so current in my wardrobe! I have to do a major shimmy to get them over my bubble butt because they are flat front/elastic back, but once on they fit great. I've thought about adding a zip fly to them or something because I always hate to shimmy, but I worry I'd ruin them somehow in the process.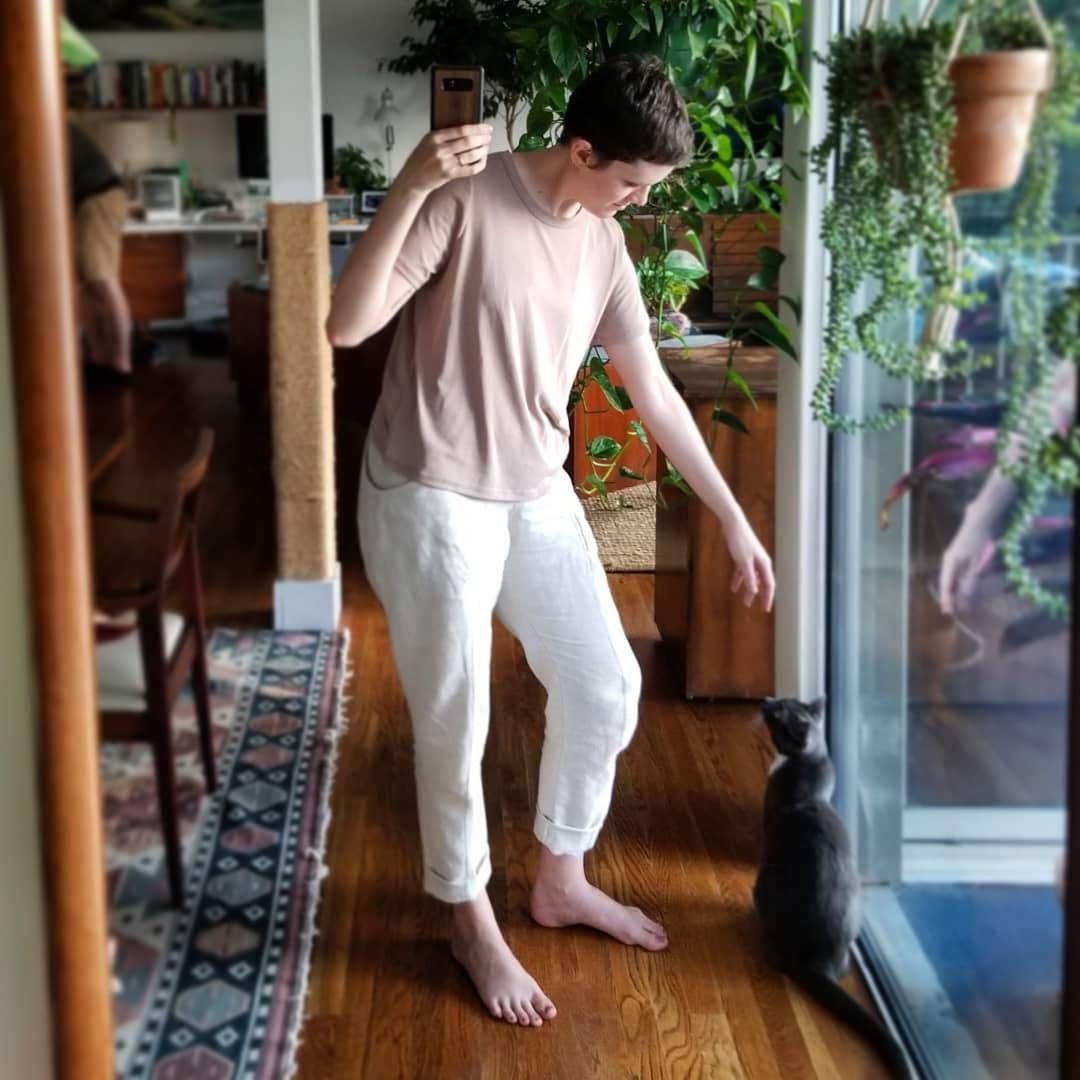 June 23, 2018
Low key night calls for some low key neutrals. Although not pictured here, the back of this top has a neat cutout detail that I always enjoy for its contrast to the plain front of the shirt. What's weird about this top is I feel like it picks up unexplained oil stains really easily? It's a poly/cotton blend, which I feel like should be LESS likely to stain, but maybe not? I certainly don't think I'm any harder on this top than I am on others, but I'll like, pull it out of the wash, and there's a new discolored spot — after the wash. It's so weird!
June 24, 2018
This morning when I woke up R suggested we go for crepes at our favorite neighborhood breakfast spot, Juliannas. I immediately rolled out of bed and threw on this plaid Osei-Duro dress — a great summer option. It's light and breezey, casual but put-together. Nicer than a t-shirt dress. More interesting than shorts and a tank. I like the sporty twist the sneakers give it.
On our Sunday morning crepe run, we decided to bring our own silverware to the restaurant.
At Juliannas, they give you your food on a regular plate but only provide plastic silverware. Same deal with water, they just give you a plastic cup and you fill it up at a water station. I get why they do this — it's a tiny place, and I'm sure there just isn't enough space to devote to storage and washing of additional items besides plates. But it still feels wasteful every time we eat there to throw away our utensils.
We've been to this place a hundred times and are basically on a first name basis with the owner, who is usually there when we stop in. So while I felt a little silly bringing my own fork and knife, I decided it wasn't that weird. We just rolled up a couple pairs in a cloth napkin and busted them out when the food came, and no one looked at us funny even once. The added bonus of using our own fork and knife is that it was MUCH easier to eat the crepes! Plasticware is so flimsy and never cut through the stretchy crepe very well anyway.
This is a small way to cut back on disposable plastic, but also a super easy one. When we were finished eating we just rolled the silverware back up in the napkin and took it home to throw in our own dishwasher. If you know you're going out to a place where you'll need to pick up one-use utensils, think about bringing your own.
I'm thinking about assembling a portable kit like this so we can always have one around in a bag or in the car. It could be a little case with like, a spork, a knife, and a straw. I suggested chop sticks as well but R thought that was too much. But it never hurts to be prepared, right?