JUN 4–10, 2018
June 4, 2018
This is on the dressier side of what I've worn lately. But in a break from habit, I wore my beige sandals instead of the black ones. I enjoyed the soft neutral palette and calming effect but found the skirt really hot! It has an acetate lining, which normally linings are great and a mark of quality, but maybe not so great when its 90 degrees out. Think I'll retire this skirt for the summer.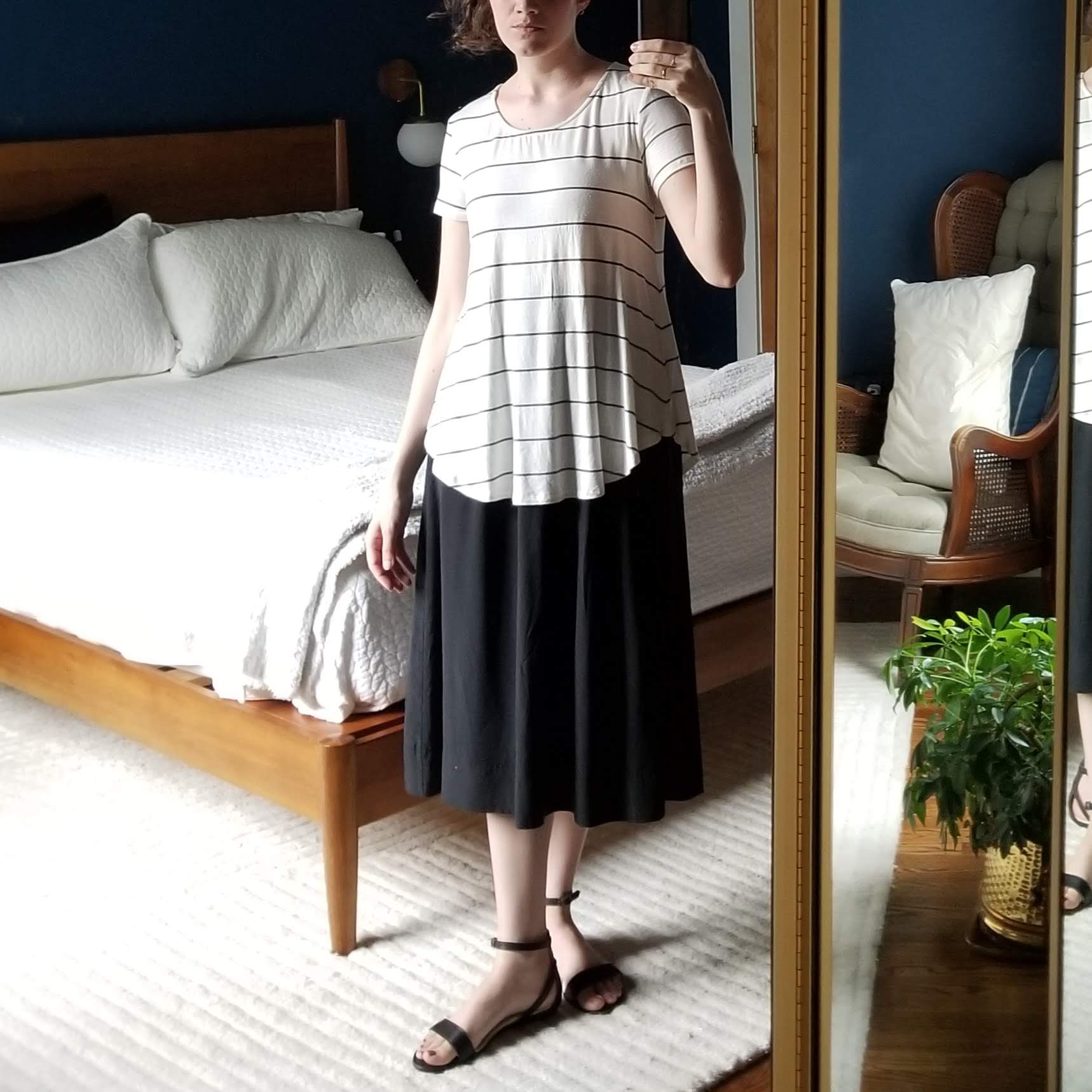 June 5, 2018
I was THRILLED with how this turned out. Building on my neo-lagenlooks from a couple weeks ago (Friday, May 11, 2018), I paired the Elizabeth Suzann bel skirt yet again with a new drapey top layer and got this. I wore this shirt and skirt combo previously, but now it has an entirely different look.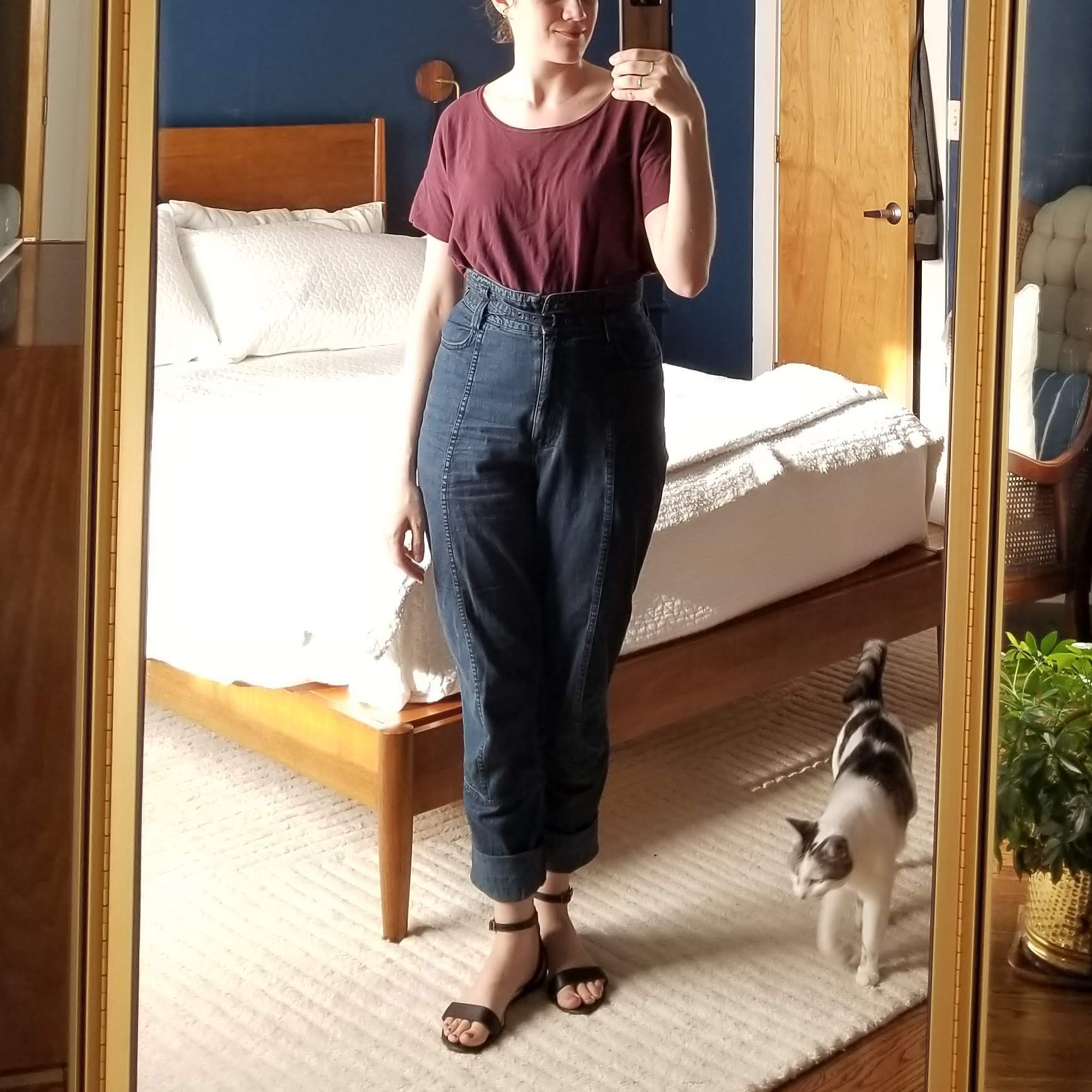 June 6, 2018
Although I've worn this look a lot, I felt kind of drab and slouchy in it today. Not sure what was going on, might have been an off day in general. I'll try pairing these pants with a fitted tee next time.
June 7, 2018
Perhaps in an effort to balance out the previous day's blah, I decided to double down on the baggy-over-baggy look for the second time this week. After all, it worked so well the first time! This time was OK, but the straight cut across the shirt hem doesn't seem to drape as serendipitously as the shirt from Tuesday.
June 8, 2018
Ugh so ready for weekend, can you tell? T-shirt and chinos, monochrome. Enough said.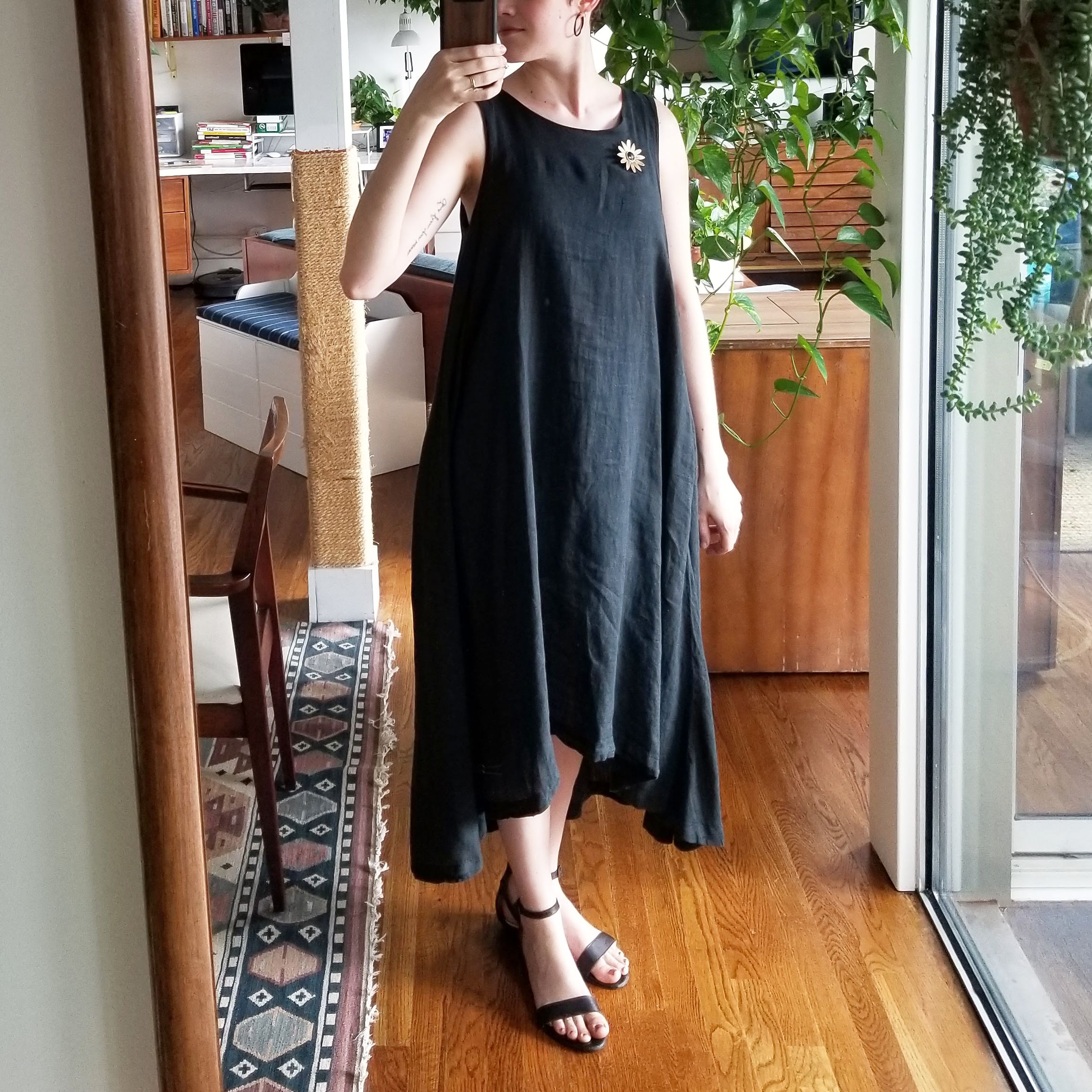 June 9, 2018
Went to visit some friends in their new home. This felt like the perfect breezey southern evening wear. This is a linen dress from Black Crane. One day I'll make a pattern from it and do copies of it in other colors.
June 10, 2018
And finally, good old Bermuda shorts for bumming around the house. I got this new-to-me belt and think it works really well with these shorts, which were just a hair loose on my waist. It's quality Coach, with a brass buckle and nice sturdy leather.
There were some hits and misses this week but overall the good outweighed the bad! I made some important discoveries especially in the layering department. I'm looking forward to repeating some of the skirt looks!
Also this weekend I went on a ram-purge — like a rampage but with purging. I listed 7 items for resale on Poshmark and sold two by this morning. After success purchasing an item from Noihsaf Bazaar on Etsy, I'm thinking about trying to resell my own items myself rather than give up so much in fees on Poshmark. For run-of-the-mill sub-$30 stuff I'll probably stick to PM, but I have a number of slow fashion-y items I figure I should just offer up to the community before reselling them elsewhere.
Would you be interested in a "Shop my Closet" feature on Ethel Grace? Maybe I'd offer items I'm downsizing exclusively here for a certain period of time before offering them on other platforms.
Luxe Strategist did a post recently on her own experience selling on a number of platforms; it's a fascinating read if you are into reselling stuff. Personally I like Poshmark for the ease of sale. It's definitely better for certain brands. The slow fashion I've put up on there is generally snapped up pretty fast, which makes me wonder if I price too low for some things. But in the end, I do enjoy the quickness of sale. That's the tradeoff for a good price I guess. Noihsaf Bazaar would be interesting to try to see if the extra reach gets me anything.
Has anyone else read about the pros and cons of the different platforms? What did you think? How does it compare to your own reselling experience?