MAR 12–18, 2018
March 12, 2018
In anticipation of more contractors in and out of the house, I bundled up with a floppy turtleneck tee and a cowl neck sweater. The sweater used to be my mom's. I'm ambivalent about the tab that holds to cowl — sometimes I wear it without the tab and i looks a little less cutesy?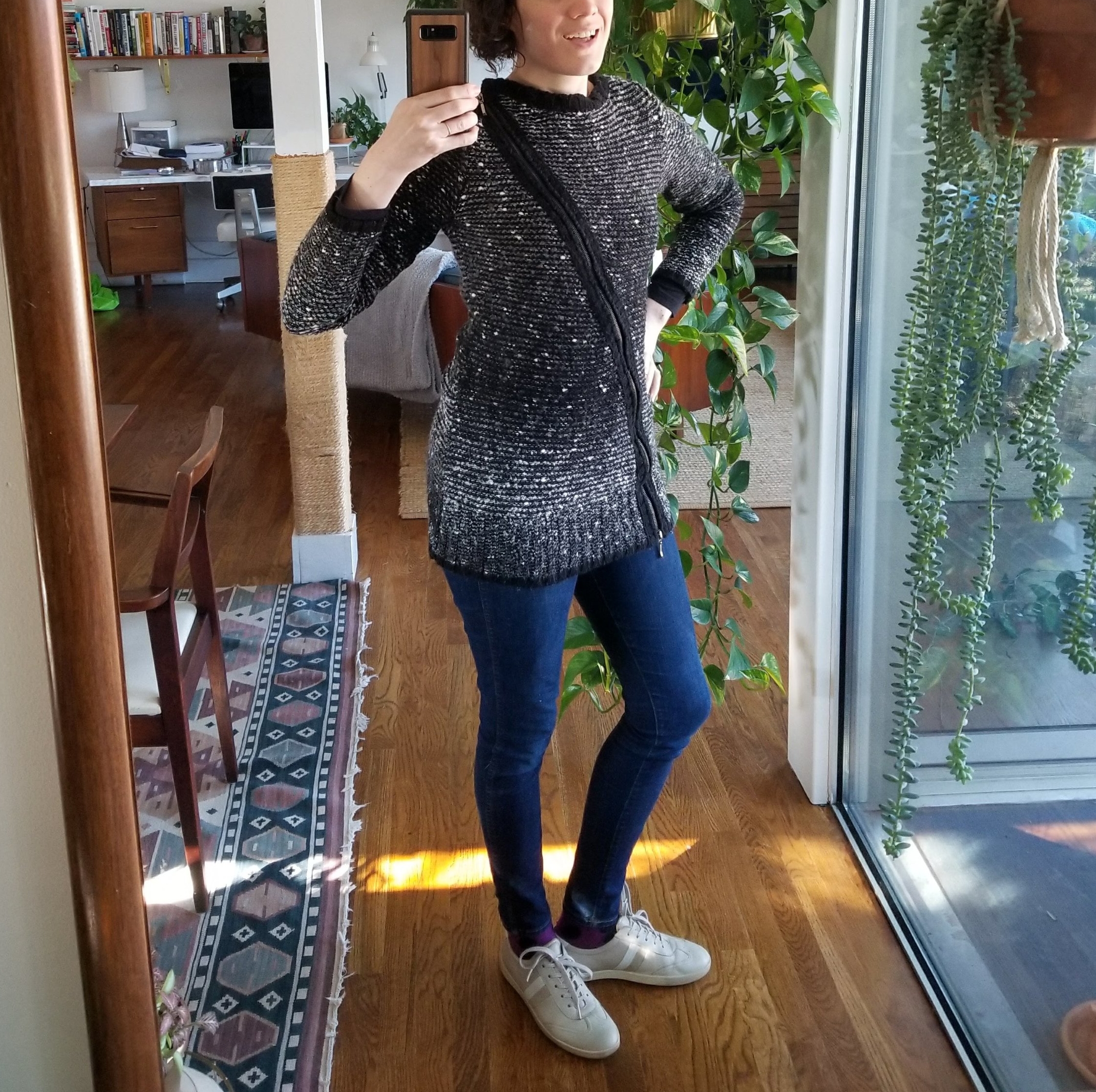 March 13, 2018
I'm smiling because this is the last day of contractors in the house! This sweater is a twin of one that belonged to my mom. We both had the same one in different sizes! Bought from, I think Ross? At the height of the tunic sweater trend, probably like 2012. The marled knit is great at hiding cat hair.
March 14, 2018
For my first day back in the office after working from home, I threw on this little golden dragonfly brooch that was my mom's. It gives a little interest to an otherwise kind of boring outfit. I pulled the jeans from my donate pile — the rise is higher than my usual skinnies and it looks better with tucked things like this turtleneck. But over the course of the day I remembered why I'd decided to donate — the waistband cuts in when I sit, the legs twist around my calves. Back to the donate pile!
March 15, 2018
Took both cats to the vet for their annual appointments today and I specifically chose this sweatshirt to mask the fear-shed cat hair. It's a heavyweight terry, so also good for repelling claws. Had every intention of changing into something else before heading into work, but then I was like fuck it, I don't care.
March 16, 2018
Friday, sweet Friday. Pulled out my clyde pants for the occasion, paired with these patent flats, and was reminded that I want to look into getting a different spring and summer flat. I kind of hate patent leather, and these are a dark camel as opposed to a lighter more nude color that blends better into my feet. I was thinking about the Nisolo ballet flats but maybe I should branch out into something with a little more pizazz?
Here's what I changed into after work. Pairing the racerfront Kotn tank with this comically oversized tee for a faux cold shoulder look. This tee was gifted to me a couple years ago and is difficult to style because of it's dramatic proportions. It almost requires another top to be worn underneath because of how the neckline wants to fall off your shoulders. It's basically like wearing a comfortable sail.
March 17, 2018
Errand to the hardware store in this outfit before cloistering up for the rest of the weekend working on bathroom finishing touches. The Black Crane carpenter pants look a little silly with boots, just four inches of bright white ankle showing. These pants definitely look better with a ballet flat or sandal. Noted!
No Sunday look because it was a t-shirt and bike shorts for painting.
Nisolo finally dropped the sandal I was waiting for, but I was really disappointed to see the neutral color offering is in nubuck. Ugh. I'm tired of all the shoemakers going nuts over suede. All I want is a simple block heel sandal with neutral leather! Why is it so hard? I don't think I'll be purchasing these. The hunt continues.
As noted above, I think I'm also on the hunt for another spring/summer shoe. I'm never happy with the current ballet flats I have. They are patent (another ugh) and darker than what I want. The Nisolo ballet flat is an obvious choice, but I wonder if I should branch out and do something with a little (not a lot) more personality? I want something elegant and streamlined in a light nude leather. I'm kind of attracted to the woven leather look that's popular now, I wonder if that's a way to get a different look?
Also I watched Lady Bird this weekend and saw so much of myself in the movie, especially in Lady Bird's friendship with Julianne. Like, the losing their shit laughing over cheese. I was in high school in 2003 and felt like the movie channeled so many of the ways it is to be 17 and certain. I had those teenage female friendships. I had those fights with my mom. Critics may nitpick or call it boring, but I felt like it was a really understated but affecting character study. It was also weirdly nice to see teenagers being teenagers without the ubiquity of cellphones. Have you seen Lady Bird? What was your reaction?
One final note! You can now subscribe to Ethel Grace and get the latest posts right in your inbox. Scroll down to the bottom of the page to sign up!