May 21–27, 2018
I'm trying out a new cataloging system, thank you for your playing along with me! Do you like having the additional info in each day's description? Or do you not care whether I list where things come from? I'm torn on whether it's helpful or not.
1H = Firsthand, aka bought new. Or gifted new. You are the first owner.
2H = Secondhand, whether that was purchased from a thriftstore, a reseller, ebay, reject from your aunt's closet, etc.
May 21, 2018
Linen on linen, black over flax. The debut of the sandals I snapped up from Slowre. They are the same as my other favorite pair in the pale honey color (please bring back pale honey!)
Shirt / Loft (1H)
Pants / Elizabeth Suzann (1H)
Shoes / Nisolo (2H - Slowre)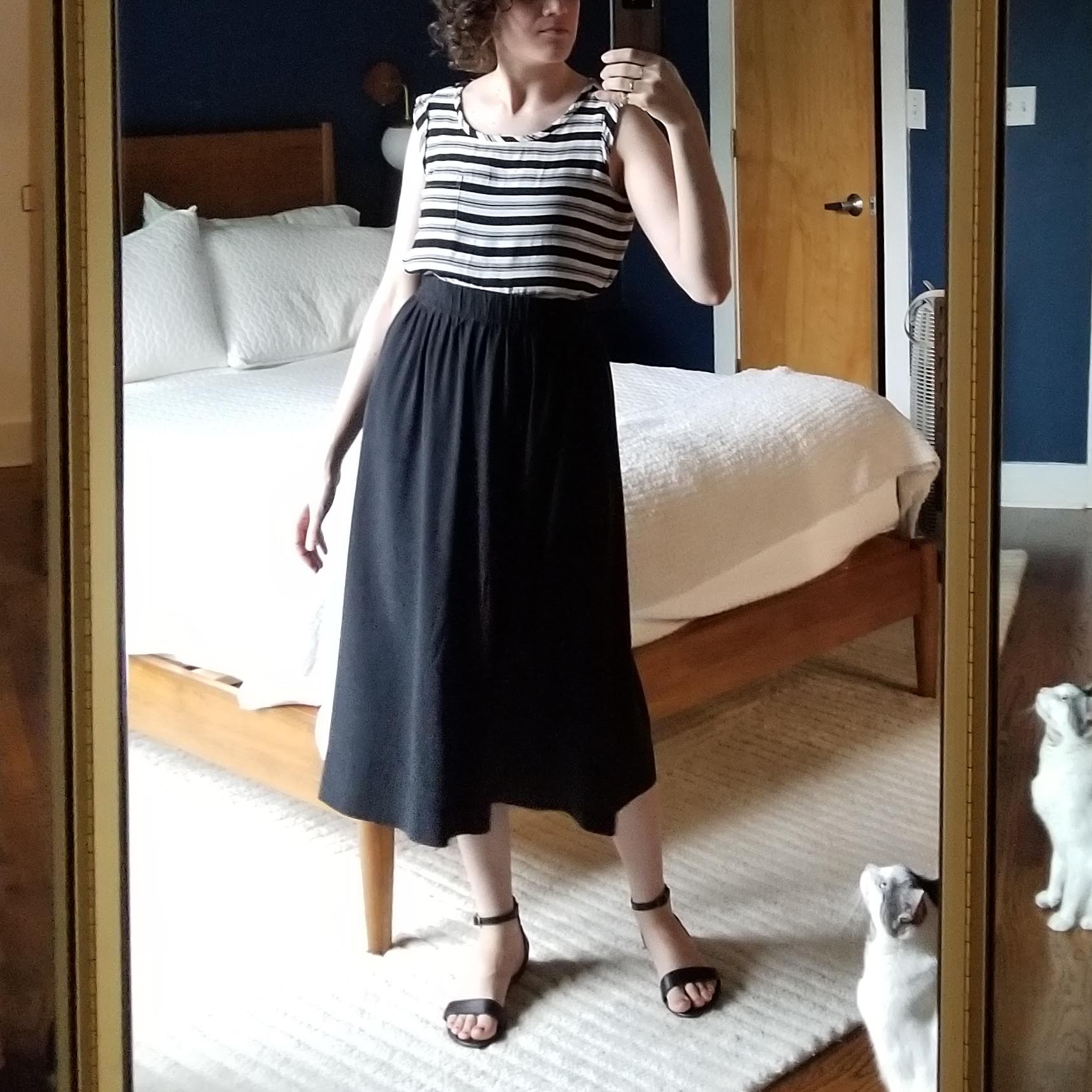 May 22, 2018
Day two of the new-to-me black sandals. They look great with the ES bel skirt! Blousier top layer. I didn't realize just how many striped tops I own, but I wore two different with black skirts last week too. Anyway, this has a bit of a breezy feel to it, and it matches Stuart.
Shirt / Loft (1H)
Skirt / Elizabeth Suzann (1H)
Shoes / Nisolo (2H - Slowre)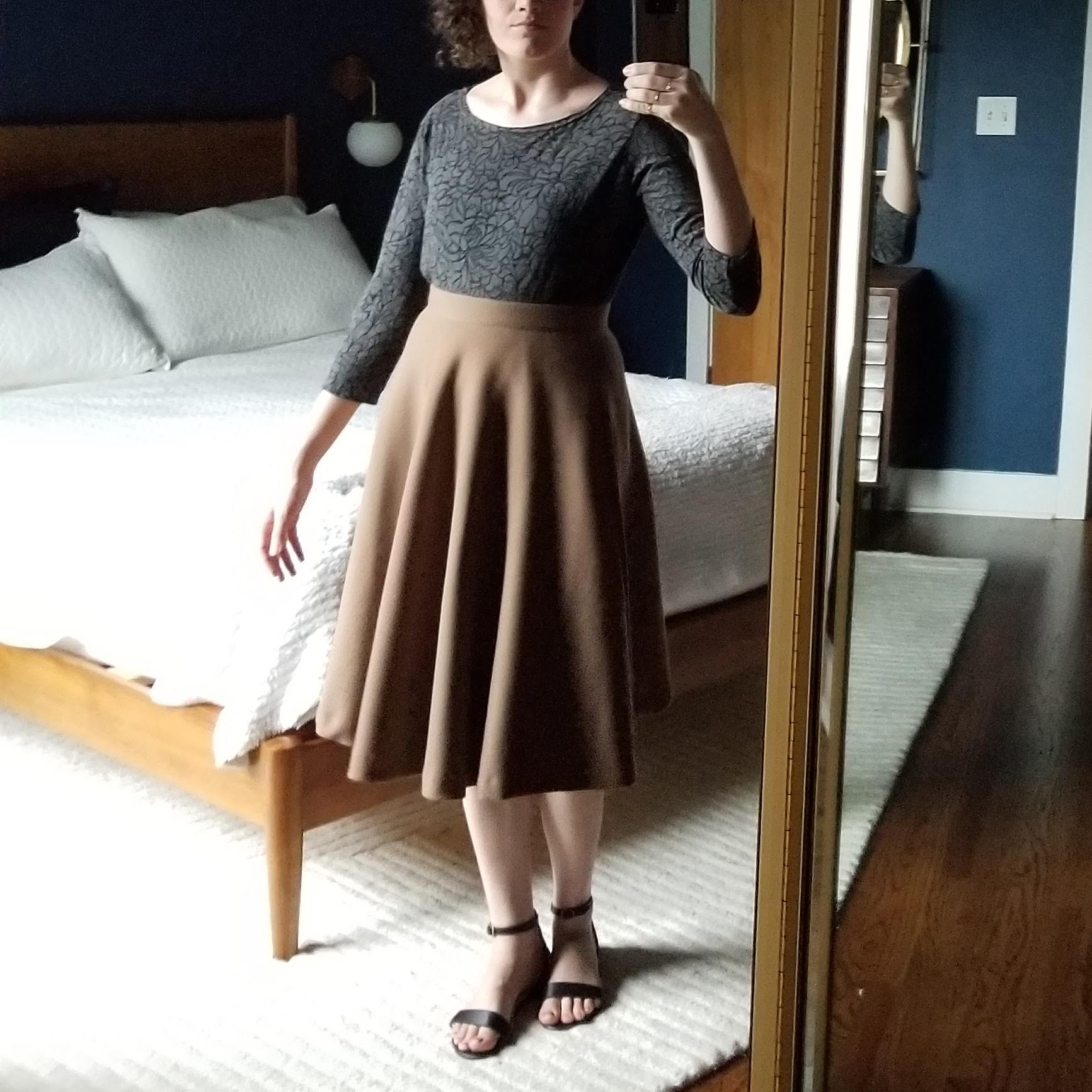 May 23, 2018
I really like this 3/4 sleeve tee my aunt-in-law gave me a few years ago. It's got a burnout pattern that makes up the floral pattern. It's barely fitted and tucks in well to a bottom. This skirt is one of the last things I ever bought from Modcloth before I decided they didn't fit my style anymore. It's fully lined and has pockets, which is really nice.
Shirt / Loft (1H)
Skirt / Modcloth (1H)
Shoes / Nisolo (2H)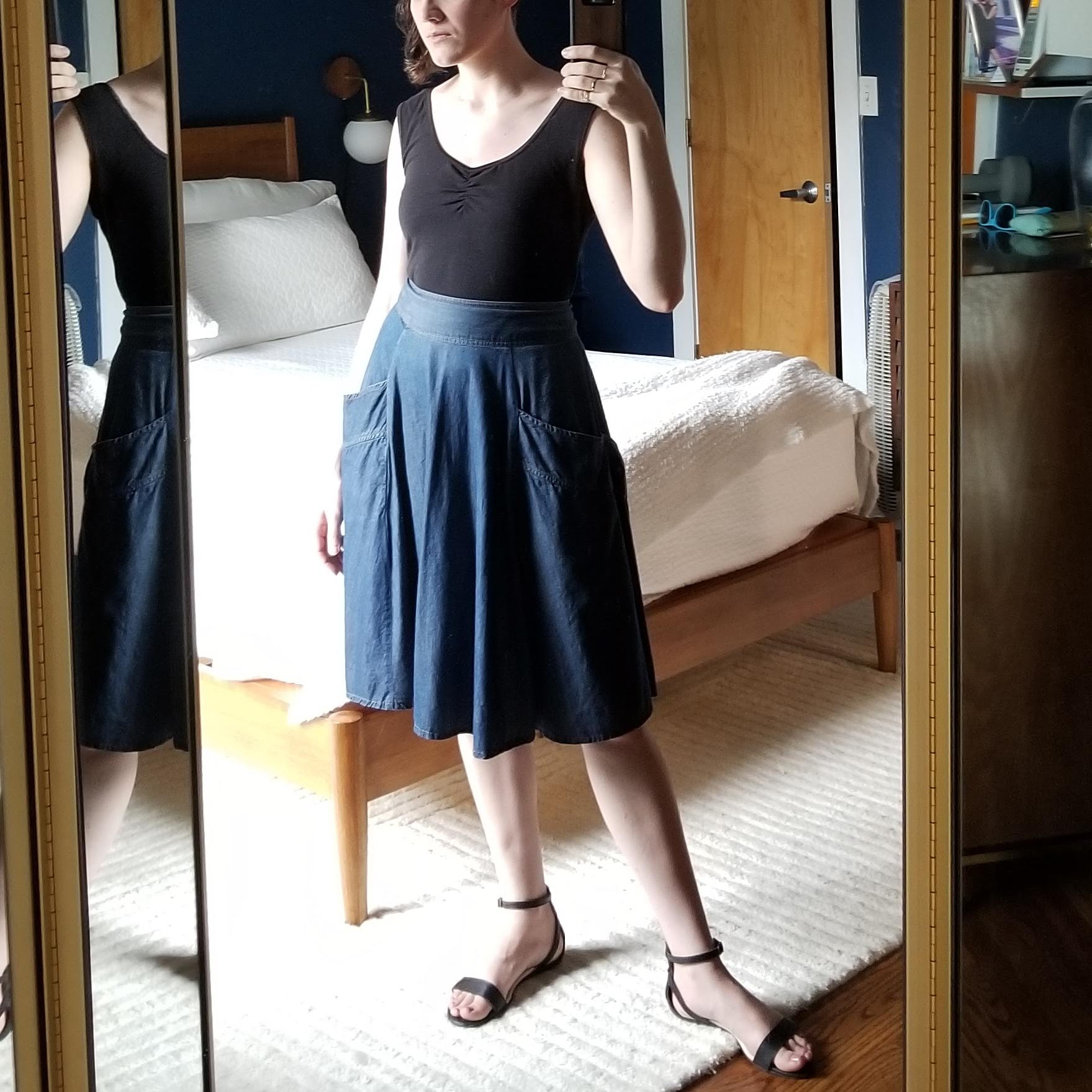 May 25, 2018
Here's my denim pocket skirt from last week again. It's looking a little wrinkly isn't it? I didn't know what I felt like wearing today so I just paired these things together somewhat arbitrarily. It worked out fine.
Shirt / Amour Vert (1H)
Skirt / Fast fashion (1H)
Shoes / Nisolo (2H)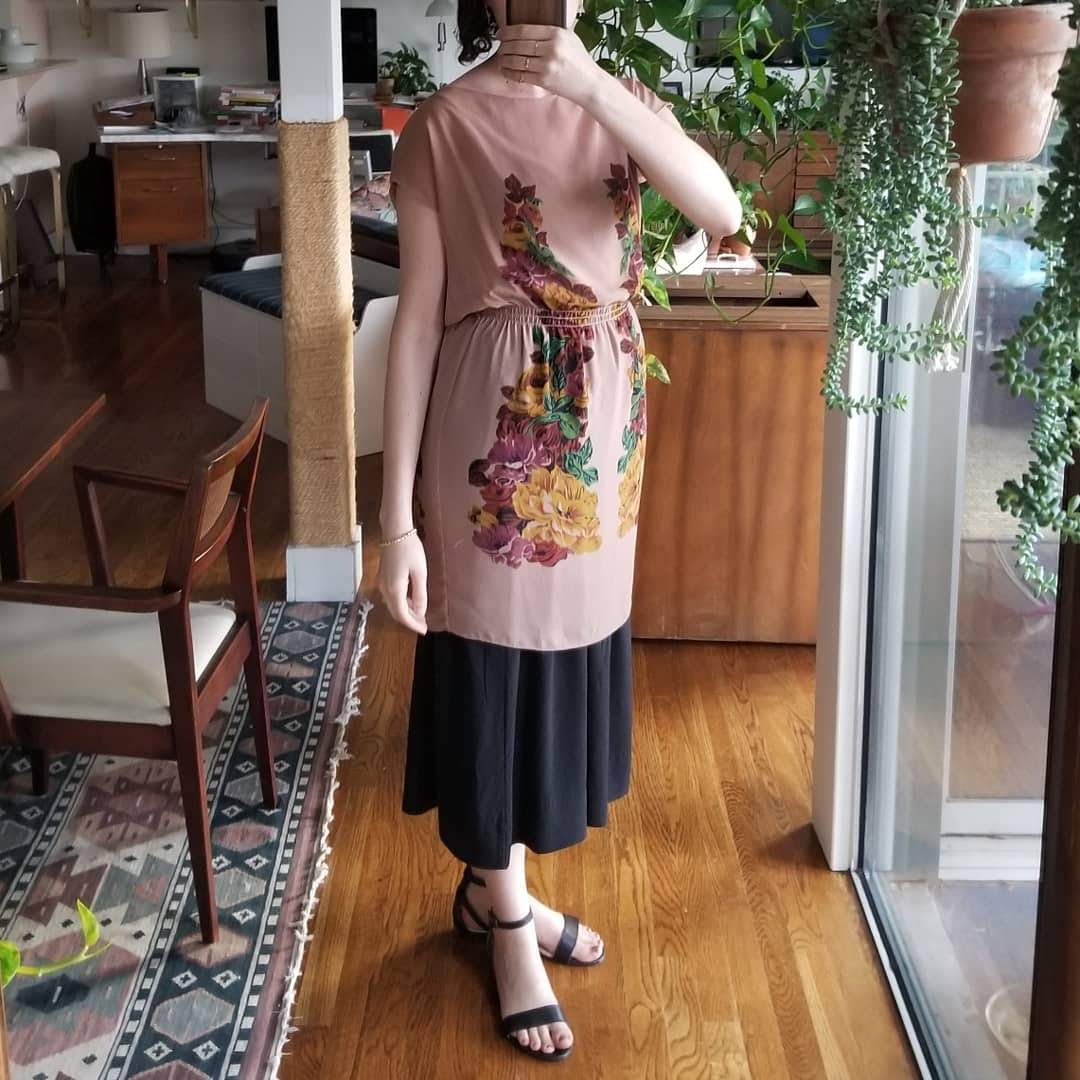 May 25, 2018
Friday night, I break from the dressing doldrums and put together this magical layered look. I was so pleased with how it turned out!
Dress / Fast fashion (1H)
Skirt / Elizabeth Suzann (1H)
Shoes / Nisolo (2H)
May 26, 2018
Check out these shorts! Remember me talking about blousy shorts? I finally found some and I love them.
Shirt / Amour Vert (1H)
Shorts / Vintage from Tara Lyn Evans Studio (2H)
Shoes / Nisolo (2H)
May 27, 2018
Kind of a faux-jumpsuit. I wanted the muscle-tee look and the utilitarianism of the blousy pocket linen pants. This pair by Black Crane is so much like the ES Andy pants BUT they have pockets. So.
Shirt / Ann Taylor (1H)
Pants / Black Crane (1H)
Shoes / Nisolo (2H)
Purse / Vintage Coach (2H)
First let's give a shoutout to the Nisolo sandals.
I can't remember the last time I wore the same shoes every single fucking day of the week. I didn't know what I was missing in my life with just the pale honey pair (which I still LOVE don't get me wrong) but now I just seem to gravitate toward them for every outfit. It's nice having a basic black sandal without a major heel. The rubber bottoms on these are great for basically all-the-time wear.
I knew I loved this sandal before I bought it because I have them in the other color, and I thought it would be prudent to get a basic pair in black. They were purchased secondhand from Slowre, which I kind of think of as a boutique reseller.
Like, anyone and their brother can resell on Poshmark. I'd say most listings are decent and many resellers will get back to you with pertinent information in a reasonable amount of time. The photos can be somewhat hit or miss, but if you know what you're looking for you can catch deals.
On the other hand, Slowre carries a more limited selection of secondhand goods, but the user experience is consistent, listings are clear, and you will only see items from certain subsets of brands and designers.
The goods lean toward independent designers and more ethical brands, many of which can also be found on Poshmark. But Slowre doesn't carry any of the junk that's also on Poshmark. So if you are looking for more slow fashion garments, this could be a good place for you. If you don't really care what brands you shop for, then you may find the selection limited.
However it's the limited selection that makes Slowre like a boutique, where they aren't going to have everything, but what they have fits a more specific aesthetic. It's worth a look if you're on the hunt for something particular.
In other news:
I put off doing this forever, but I finally caught up on writing out all my clothing and shoe expenditures in one list — a mid-year review of sorts. And the worst part was every time I thought I had everything written down, I remembered another thing I'd purchased. Woof! So much for thinking I don't buy that much.
To be fair, 63% of my purchases were secondhand buys, so that's actually a really big gain for me since this time last year. And of the 37% that were purchased new, a single item from an ethical independent designer accounted for over half that cost. So in the end, only 15% of my spending so far has gone to new items from ethically ambiguous brands. I'd call that progress, when it was just two years ago basically NONE of my purchases were made with enough thought toward the origin of the items.
I also made a list of the items I've sold from my closet and tallied up my net gain. It's not insignificant! I'm able to make secondhand purchases against this credit without ever dipping in to my actual budget.
Ten things I learned from writing down a big list of what I've bought this year:
I've made 16 purchases since January 1, 2018.

Of the 16 items purchased, I've made one return.

10 of the 16 items were purchased secondhand or vintage.

Of the remaining 6 items, one was new from an ethical independent designer, and 5 were new from an ambiguously ethical brand.

Of the 5 new from an ambiguously ethical brand, 4 were underwear, and the fifth got returned.

After the first five months of the year, I have spent 65% of my annual clothing/shoe budget. This does not include the cost of items offset by the sale of other items in my closet.

I netted $391 in reselling clothes since January 1, 2018. This is what I draw against when I purchase other items on Poshmark with credit I have earned reselling. I sometimes transfer this credit to my own account for other online secondhand purchases.

Of that net credit, I've spent $345 on other secondhand purchases, leaving $46 in reselling credit.

The single item purchased new from an independent ethical designer accounted for 59% of the total amount I've spent from the clothing budget for the year. The other 41% is a mix of mostly secondhand and a few firsthand purchases.

It's OK to spend a chunk of budget on underwear. There may not be a bigger workhorse in your entire closet.
Neo-Lagenlook
So in addition to going through the painful task of writing down and calculating the dollar amounts on all my clothing purchases, I also had fun this weekend dressing up in funny outfits.
My magical breakthrough came on Friday evening. I didn't feel super enthusiastic about the outfit I had on the first part of the day, although it was fine. So in the ten minutes before I had to leave to meet friends for dinner, I whipped through the closet and pulled together this outfit:
And I loved it! I loved the swish of all the layers! I loved the color-blocking aesthetic.
The top dress is actually one of two that my mom bought me shortly before she was diagnosed with cancer in 2012. She had dragged me to the mall for some occasion and insisted on buying me a dress, maybe for a wedding I was attending? I can't remember.
I couldn't decide between two dresses, and so she bought them both for me. I've worn it on occasion since then but honestly it's felt too short the last few years, and a little tight over the hips for the length.
Now the tighter fit of the top layer kind of accentuates the drapes of bottom skirt, which I thought was really nice. I skipped a belt but paired with black shoes and clutch. The bottom skirt makes the it all the perfect length.
Many garments I've resold or donated since 2012, but it's interesting to see what ends up lasting. I probably wouldn't have guessed this dress in particular! But there was always something I loved about it. Maybe I couldn't articulate it then, but it fits really well with my current style sensibilities.
As to the whole look, when polled, my husband was like, ehhhhh kind of weird. And I get it.
But sometimes kind of weird is kind of good, right? So I wore this anyway because I was super into it. I was so into it I barked at R to take this photo in front of our neighbor's hydrangeas on our walk to dinner. I looove their hydrangeas, every year. The bush always blooms in this rainbow of neon pinks and purples. So gorgeous. Hydrangeas always make me think of my mom — they were one of her favorites.
But anyway —
Would you call this Neo-Lagenlook?
When I think classic lagenlook, I generally think lots of linen layers, handkerchief hems, kaftans, Eileen Fisher. I'd even think of Elizabeth Suzann's neutral linen outfits, all boxy and flowy and shit.
So to be fair, this outfit DOES feature an Elizabeth Suzann skirt, but it's a more streamlined silk version. And it's topped with a sheer mini dress with a kind of weird floral print. So in that regard, its a little more untraditional. While it's got a lot of the lagenlook — layers, drapes, loose fit — it's also a bit more youthful and vibrant.
I want to dress like this more!
In fact, I dressed up like this again, just for fun:
This time it's my Osei-Duro dress. The bel skirt does another killer job giving it added dimension. The dress already had a lot of volume and a big ruffle, so the skirt is the smaller garment proportionally. It proves a nice, calm counterpoint to the plaid above.
I like the dress just fine on it's own, but layering it gives it even more wardrobe potential. It also might be a way for me to extend the weather I could wear the dress in to later in the fall.
I've been looking back on my winter outfits from this year and just feeling depressed looking at a lot of it. Same fits over and over. Something was missing. I don't know.
Then I look at all my outfits from this past week and feel generally pretty good about all of them. I felt really comfortable for the most part! Something about dressing for warm weather just makes me feel more fulfilled with my wardrobe. It's easier for me to feel put-together and not boring. Maybe I just have more options. More potential bottoms (skirts, shorts, AND pants), more potential tops. Or maybe I just understand the algorithm of my summer wardrobe better.
I know others have the opposite experience — melting in the summer, feeling blah, but thriving in the layers of winter. But maybe by documenting what made me feel good in the summer, I can find ways to bring it alive when the temperature drops.
So now we're up to speed. I hope you all had rejuvenating long weekends!