MAY 28–JUN 3, 2018
May 28, 2018
Love these shorts! The perfect vintage pair of Bermudas. They're a poly/linen blend, which is probably good for wrinkle reduction. Flax color pairs with basically everything in my closet.
May 29, 2018
Back in the office after a long weekend, here's my burgundy-colored cotton/linen slacks with a basic black tee. The Nisolo sandal streak continues.
May 30, 2018
Outfit repeat! Outfit repeat! Whenever I think, today's a good day for my clyde pants, I seem to also always think, this striped burgundy tee will be perfect. It usually is.
May 31, 2018
Work from home day and also laundry day meant I reached for what was a) not dirty and b) easy. By the end of the day, I shucked this poly top and realized why I never wear it anymore — it's hot and makes me sweaty. I still love the color blocking pattern and cut though (it represents the only lilac in my closet I think) but I can't get past the material. At the end of the day I put it in my "Sell" pile, but maybe I'll revisit it in the fall when it's cooler.
June 1, 2018
Another outfit repeat, except for the shoes which of course are the new Nisolos I've had on heavy rotation lately. I love this outfit. I don't ever set out to repeat it like this, but when I want to wear the Caron Callahan pants, I instinctively reach for this inky black top because it's fitted and contrasts with the pants. Not a bad combo. And on my way home, a random guy at the train station looked up from his phone as I walked by and said "Great pants, homie." A ringing endorsement.
June 2, 2018
This morning we did a bike ride to Decatur for breakfast, then I ran the recycling out and did a couple other errands. THEN I changed into this little Lacausa jumpsuit that really only gets pulled out a couple times a year. We went out to a Midtown cocktail bar to celebrate a friend's birthday, and if that isn't an excuse for pink shimmer I don't know what is. I ended up changing my shoes to the pale honey pair of Nisolo sandals, but the sun had gone down so I didn't get a good pic.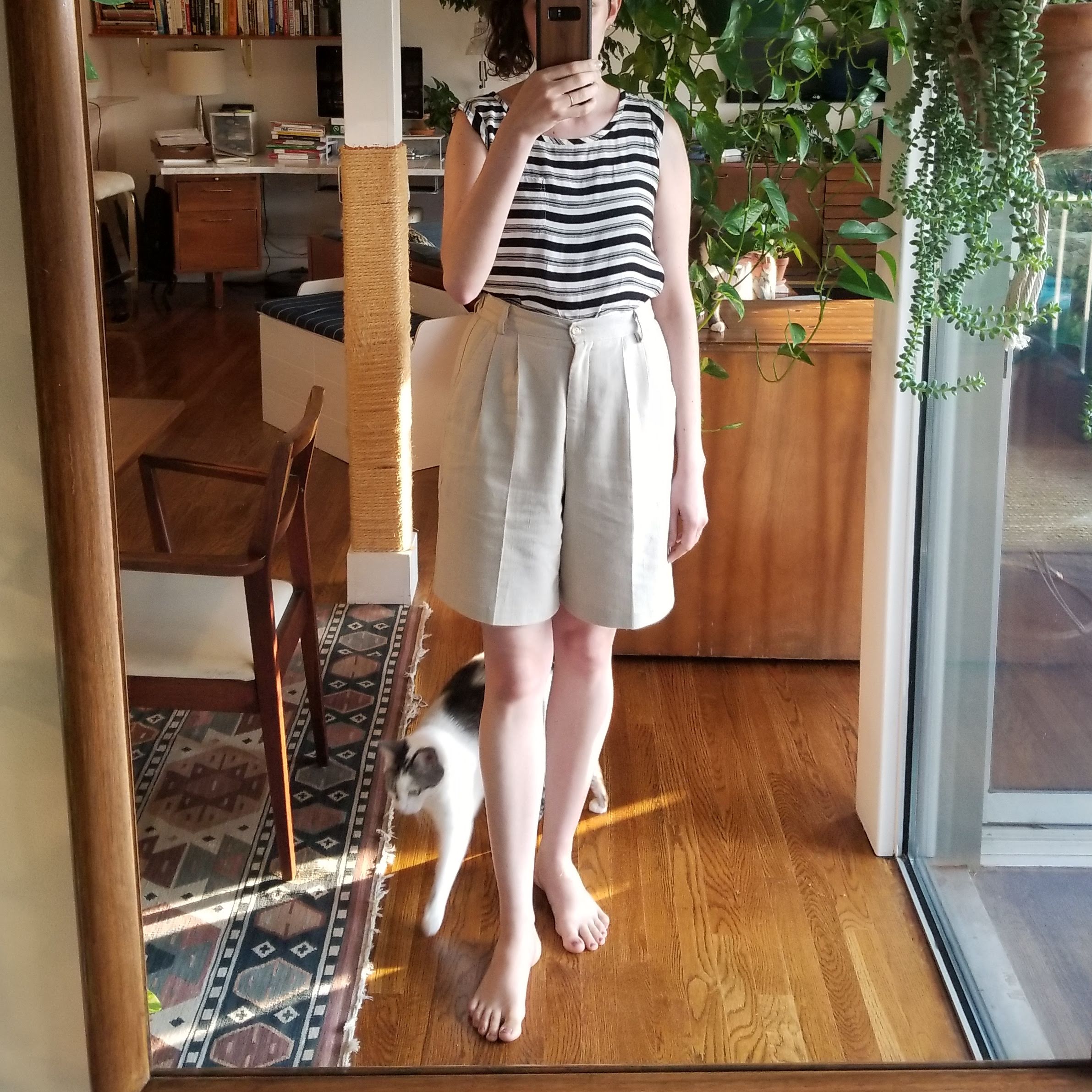 June 3, 2018
We biked to grab lunch today at Lotta Frutta, and the line was out the door! By the time we ordered and had sat down to wait, sweat was rolling down my back. But I was SO happy to be in these longer shorts because what is worse than having sweaty leg backs stick to a chair? Nothing! Nothing is worse than that.
Wouldn't they look kind of amazing? They would. I feel like they would make this go from "Oh that's a nice feminine look" to "Wow, STYLE!"
But the problem is: when else would I wear them?? I don't have ANY other yellow in my closet. I think pairing them with the copious number of black items in my wardrobe would start giving off bumblebee vibes. Beige, the other big color in my closet, doesn't seem like an obvious choice for pairing either To much opportunity for clashing.
What other colors work well with yellow? It doesn't seem like they'd get a lot of future use for me beyond wearing them with this dress.
I'm concerned with making sure an item in my wardrobe has lots of opportunity for pairing with other items, but now I can't get over the idea of a colored shoe instead of a neutral shoe. Maybe this isn't the right pair, but I am wondering if I need to step outside the boring zone more often?
For my wardrobe, I want to balance Fun and Different with Easy to Pair with Everything. My closet might not lend itself towards a yellow statement shoe, but maybe there's a different color that would be good and ALSO get more use? Burgundy comes to mind as a good statement color for me, but it isn't the best choice for pairing with a light, fluttery summer look like this floral dress. Maybe a light pink like in the flowers of the dress? It's a color that already exists in my closet, so that's a point in it's favor.
Still, pink sandals don't call to me like these yellow ones. Maybe I'll look for a lower cost secondhand pair similar to the MNZs so it's not a huge investment on such a specifically colored item.
What do you do in this situation? Find a more neutral, safe pair of shoes that will DEFINITELY get their use? Or take the wild plunge!?