Summer dress
We've got a wedding to attend in July, and I've secretly been planning for a good six months what I'm going to wear. I love that weddings are an acceptable occasion to dress up for!
I have a good stable of dresses (although a lot are black and not quite summer-wedding ready) and wondered whether or not I needed something new to wear. So yeah, I don't need something new for this wedding specifically — I can think of a couple things in my closet already I could wear that would do.
BUT
I have been on the lookout for a nice, work-appropriate summer dress, as this is a bit of a hole in my wardrobe. Something light and fluttery that covers my shoulders, not black, lightweight, and midi-length.
So! What luck if I was able to find a dress that satisfied my wardrobe goals AND gave me the opportunity to pick out something fun and new for this wedding. This way I could ensure I'd be getting long-term value out of the garment, and it wouldn't just be worn once and then join the other non-work appropriate strappy dresses in my closet.
As is my habit lately, I checkout out my favorite vintage haunts to see if I could find a unique second-hand option. Etsy did not disappoint!
Behold, this dress from BronYrAurVintage.
The measurements were slightly larger than what I wear, but I thought: great! More material to work with. Here's what it looked like on me when it arrived:
It had little ties in the back that I could use to cinch in the waist a little, but they were lower on my hips than what I needed (hello high waist). Also it looks like someone snipped out the shoulder pads, so there was extra material in the shoulders that sort of just slumped over, and not in a nice drop-shoulder way.
The dress needed to be taken in throughout the waist and shoulders to get it to sit right on me. I also found that the length was a little matronly, so I decided to give it a bit of a high-low hem instead.
If you saw my Instagram story earlier this week, you may have voted on whether or not to keep the sleeves! It was split really close, but let's take a look and see what I decided to do in the end...
Ta-da! Sleeveless!
So I DID try to reattach the sleeves when I got to the sleeve part, but with the tighter fit through the bust (but not TOO tight, gotta leave room for cake) it made raising my arms difficult. It wasn't a good look. I like how now it's vaguely cap-sleeved.
If I were doing this alteration completely The Right Way, I should have done the sleeve holes with interfacing, but who has time for that? The sleeve hole hems are probably the most homemade-looking thing about the dress now (they pucker a little) but I don't mind! Especially after ripping out the bottom hem, lol. I DID do french seams on the inside where I took in the sides, so yay me.
Even my mis-cutting/mis-sewing of the bottom hem turned out ok. I had to undo the hem and recut part of it to make it symmetrically longer in the back, but when I re-sewed it, I think I actually did it better, AND I fussed with the length in the front and back, and now I like how the overall high-low length ended up. It was supposed to be a bit more dramatic, but this is probably better in the long run — not as statement-y.
With the shorter length in the front, it felt prudent to take out some buttons. Again, if I were doing this The Right Way, that would probably mean undoing the seam where the little loops around the buttons were attached and surgically removing them. But again: no time, snip snip. Remember, at this point in the process it was 9:50 pm and I hadn't eaten since noon.
I'm thrilled with how the dress turned out with alterations. It's more fitted but not too fitted, and it is a less matronly look in general. I love where the high-low hem hits me on my calves.
So I wore the dress with my Everlane day heels in these After photos, and I like the look, but what I thought would be even better for a summer wedding is a pair of beige city sandals a la Maryam Nassir Zadeh.
Her Sophie sandal is my Holy Grail, but the buff tone it's offered in this year is SUEDE and I don't want light color-ed suede in my life, no thanks. And: expensive.
I've been looking for literally over a year for a pair of similar block heel city sandals and STILL haven't found the perfect thing. At this point I'd almost be willing to drop cash on the MNZ pair — but the suuuuuede tho.
If I expand my horizons somewhat, there are certainly other block heel sandal options out there. The details that are most important to me are color, material, and minimal aesthetic. However, a statement shoe with some other different quality could make the cut if it is a knockout in some other regard. Some options: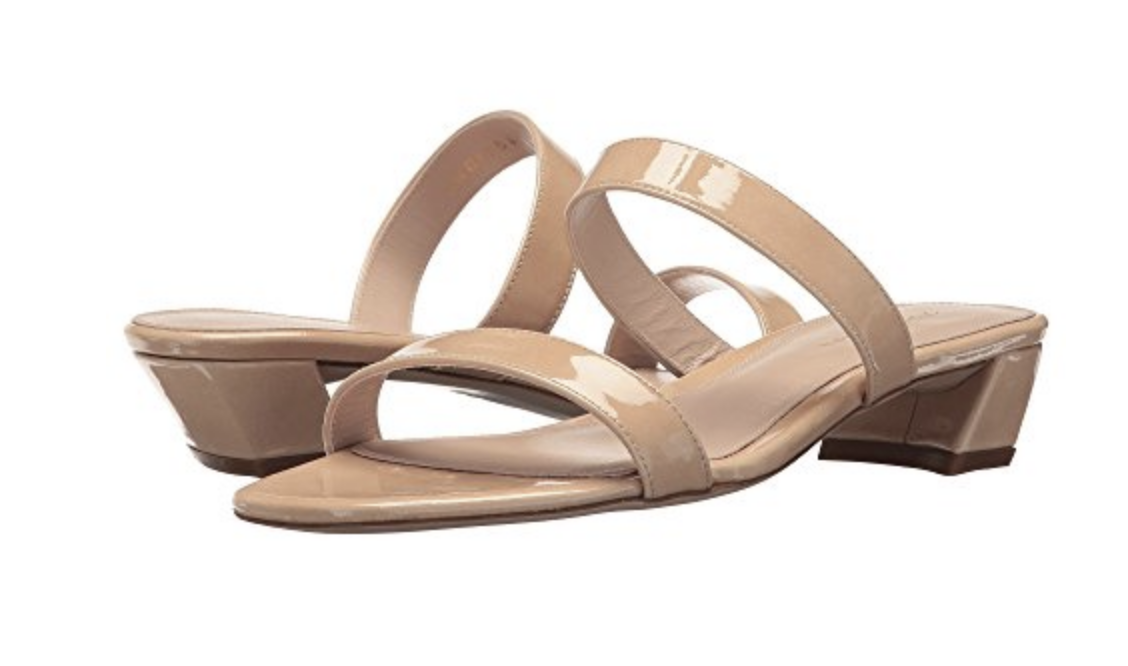 I like this minimal look a lot! And the heel is cool. But why do they have to be patent???
The heel on THESE on the other hand is probably the top of my height limit. Interesting straps, although the caged look is less minimal that I'd like.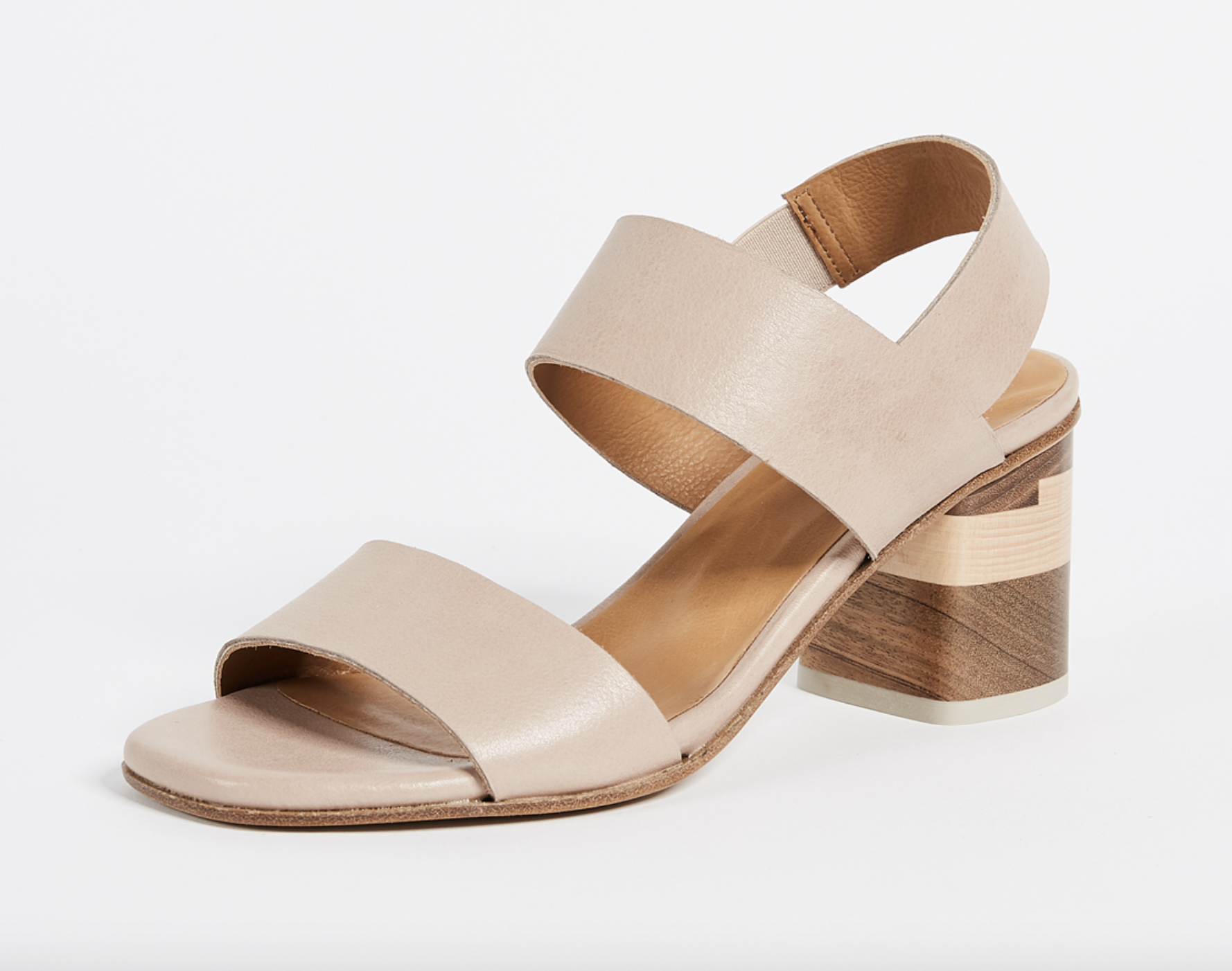 Love the Coclico wooden heels, but the straps on these are kind of wide and I'm afraid wouldn't give as much of a minimal delicate feel that I'm going for.
Terrible lighting in this photo, but the color is described as "cream." The block heel is a nice height and I like the minimalist single strap. The woven material looks interesting. Low investment cost if I decide to try these...
Ooo, crossed straps are interesting. I appreciate the monochrome covered buckle too — a thoughtful detail. The color is called white and while they are def not beige, they are kinda off-white, which might work for me. These cost even more than the MNZs though, so boo.
Another By Far in "white" which looks gray? These look super nice and minimal but are they technically sandals? What even is a sandal anyway? They look like they might be hard to keep on your feet...
OK, these are nothing like the MNZ sandals, but I like them anyway! I love woven or braided texture, and they are the right color and size. The heel is a little victorian-esque but I can see beyond that.
These are so close! But the wavy straps are throwing me off. Are the good? Or bad? I honestly can't tell.
And of course this pair, which I THOUGHT were going to be my MNZ replacement! But they're NUBUCK, which, although more durable than suede, I'm told, are still a suede look. Wahh.
In conclusion... still looking. So many "It's great, but..." statements above.
I'm OK with a stacked heel, although I think the covered heel looks a bit dressier. There are tons of minimal city sandal options I didn't list here but they are all funky colors, which is NOT what I'm in the market for.
Honestly I'm at the point where I'm considering DIYing some sandals with a custom mix of leather dye in the color I want. So if I did find a pair I like in like, but in white or some other light color, I'm game to try and color them how I want. Would probably be best to experiment with a low-investment pair first to get the color and application right though.
I think the By Far Anelias are my fav so far from the ones I've pulled here, which is surprising to me because of the crossed straps! But I feel like they channel the spirit of the MNZs. Too bad about the $$$.
Any other thoughts on a cool, minimal, beige (or off-white I guess!) block heel sandal to pair with the dress (and beyond!)?